You've shopped for the wedding rings, planned the perfect proposal, and popped the question…now what?
For newly engaged couples, the time spent planning their wedding is equal parts exciting and overwhelming. (There's so much to look forward to but there's also so much to do!) Which is why many of them turn to a wedding planning timeline to keep all those little details on schedule.
After hundreds of weddings, you could say that The Treasury on the Plaza team are wedding experts by now. That's why we've put together the ultimate wedding planning guide to make your to-do list a little more manageable.
This checklist will show you how to start planning a wedding step-by-step, including tips for booking vendors, a venue, and some additional details. However, don't feel like you have to follow our advice to the letter. This is your wedding! Feel free to customize your timeline and checklist however you see fit.
HOW TO START PLANNING A WEDDING
Before you start planning the details, there are a few "big picture" items you'll have to deal with first.
For instance: setting a wedding budget.
Once you're swept up in the wedding planning process, it's very easy to let your "vision" eclipse your bank account. Gather all involved parties—including any parents who may be contributing—and decide together what your wedding budget is going to be.
The two of you should also talk about any ideas you have. Oftentimes, brides and grooms have been thinking about this moment for their entire lives. If your expectations differ, now is the time to talk about it.
Get on the same page about the size, overall vibe, and location that you have in mind for your ceremony and reception. Ask each other whether you'd prefer a small wedding or a huge event. If you want to select a theme or choose your wedding colors, now is also a great time to do that. Is there a certain "home base" city where it makes the most sense to host your big day, or do you want to plan a destination wedding?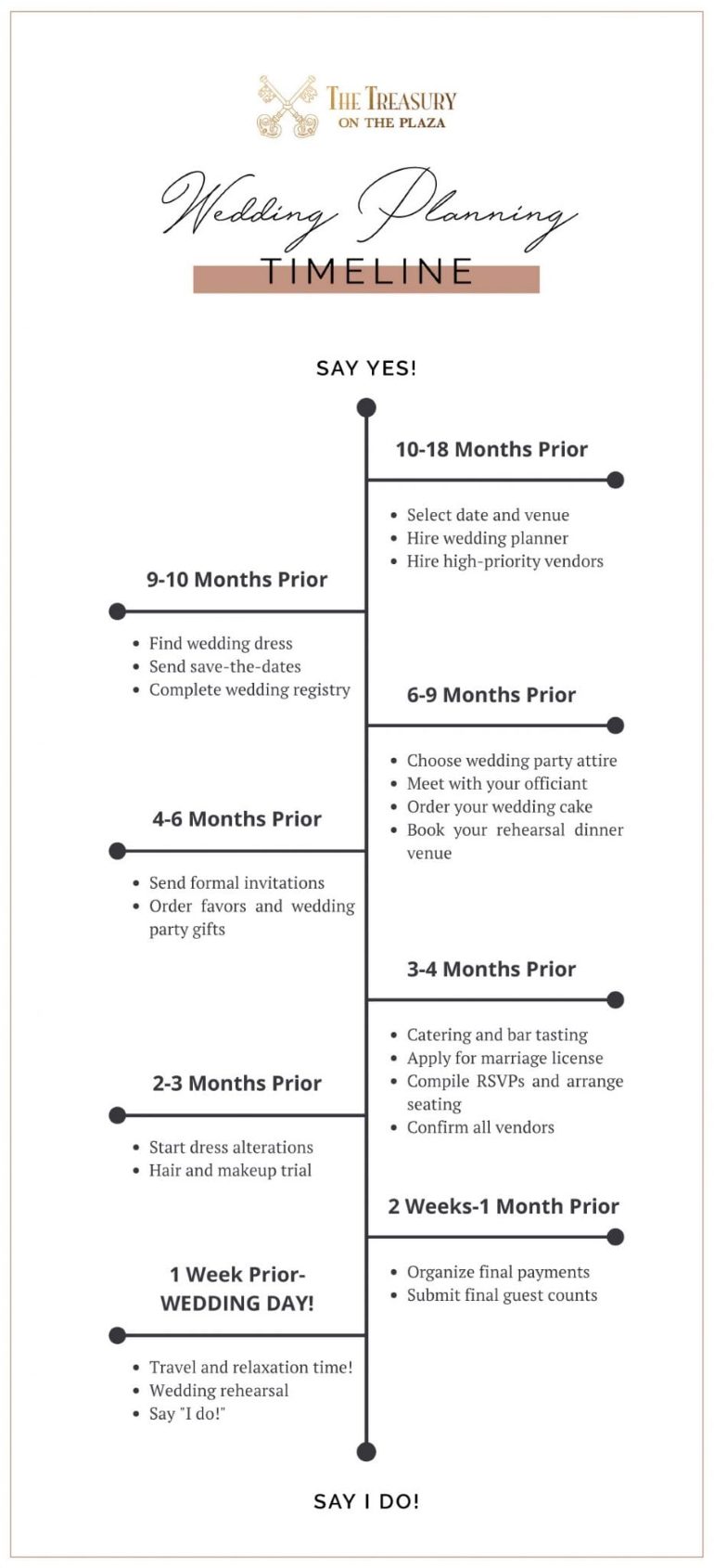 10 TO 18 MONTHS OUT
I. SELECT A DATE AND VENUE
Once you've narrowed down your wedding budget and aesthetic, you'll want to start looking at wedding venues.
Booking a venue turns a lot of your ideas into hard and fast realities. Plus, once you've set the wedding date, you can check availability for your other vendors much more easily.
Weekends are popular days for weddings, but don't discount mid-week dates! Being open to a Thursday, Friday, Sunday, or even Monday can open up a lot of availability—especially for a more popular venue. If you're hoping to get married during peak wedding season (such as the Night of Lights here in St. Augustine), this might be the best option to snatch up a date if you aren't planning a few years in advance.
An added bonus of a non-traditional wedding date is that you get to save a little bit of money (more money you can put towards the open bar)!
II. HIRE A WEDDING PLANNER
If you're going to hire a wedding planner (and you should!), find one as early as possible in the planning process.
Wedding planners are a huge asset to take some of the stress and burden off your shoulders. In addition to coming up with those fun décor ideas, they can also help you set a budget, communicate with vendors, stick to the wedding planning timeline, and deal with any hiccups along the way.
III. HIRE HIGH-PRIORITY WEDDING VENDORS
Depending on your wedding style, there are a lot of wedding vendors you will have to book before the big day: caterer, photographer, videographer, hair and makeup artist, florist, entertainment…the list goes on.
As you can imagine, it's rare for all of your top picks to be available on the same day.
Our recommendation is to book them in order of importance. For instance, if you place a lot of value on having great wedding photos, you might want to book the photographer before you book your florist.
Make sure to ask your venue if they have a preferred vendor list that they request you choose from.
9 TO 10 MONTHS OUT
I. FIND YOUR WEDDING DRESS
Did you know that most wedding dresses are custom made? These gowns can take up to nine months to be delivered, plus another two months for alterations. If it takes a while to find that dream wedding dress, you'll want to start as soon as you can.
II. SEND OUT SAVE THE DATES
You spent a lot of time hand-selecting your guest list; you want them to have plenty of time to clear their schedule! If your wedding falls near a holiday or you're planning a destination wedding, you should send your save the date cards at least ten months in advance. This gives plenty of time to make travel accommodations.
III. COMPLETE YOUR WEDDING REGISTRY
Believe it or not, every wedding guest loves the convenience of having a preselected list of gifts to choose from.
We recommend choosing gifts from at least two different retailers. Target, Bed Bath & Beyond, and Amazon are favorites for a reason. For added convenience, a site like Zola allows for gifts, experiences, and cash gifts to exist in one place.
6 TO 9 MONTHS OUT
I. CHOOSE WEDDING PARTY ATTIRE
If your bridesmaids and groomsmen have different preferences and body types, it can be difficult to find a style that suits everyone. Give your wedding party plenty of time to agree on bridesmaid dresses or suits.
II. MEET WITH YOUR OFFICIANT
If we're being honest, your wedding officiant is the one person who makes the entire wedding ceremony happen. If you don't already have one picked out, now is the time to do so.
Discuss any traditions (religious or otherwise) you'd like to include in the ceremony and start talking about your vows. (Many couples nowadays write their own vows, but don't feel like you have to!)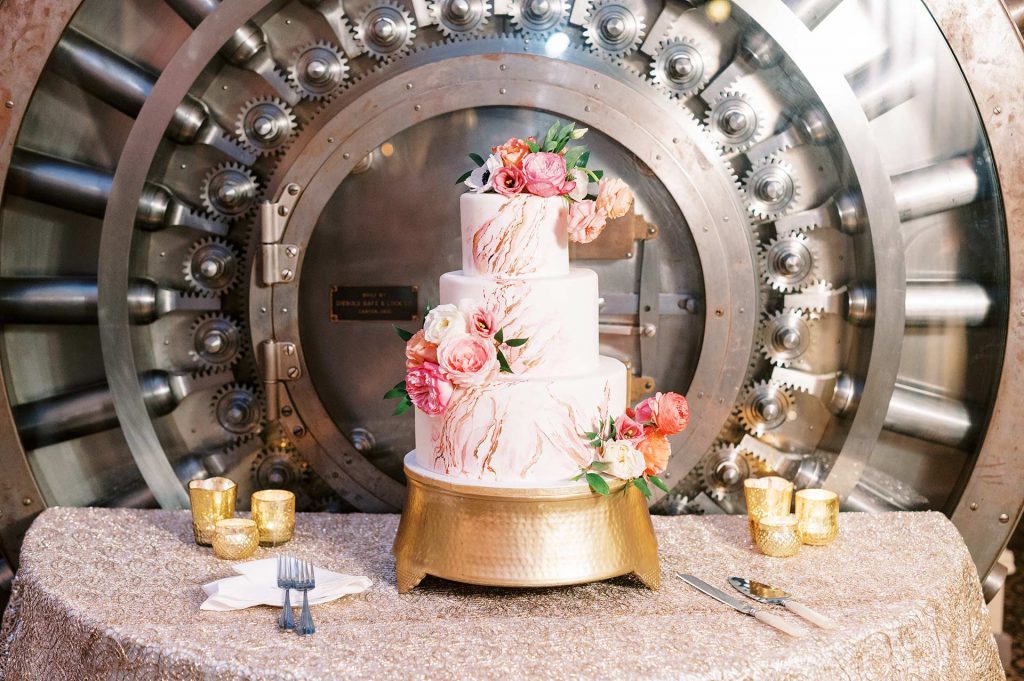 III. ORDER YOUR WEDDING CAKE
Wedding cakes take a long time to finish and bakeries often have a tight schedule so they can fulfill other orders in the same weekend.
Look for a baker well in advance and bring along plenty of photos as inspiration. If you're planning a destination wedding, talk to the bakery about when to schedule a cake tasting.
Then again, if cake isn't your thing, there are plenty of other wedding desserts you can choose instead!
IV. BOOK YOUR REHEARSAL DINNER VENUE
Traditionally, the groom's parents are responsible for planning and hosting the rehearsal dinner, but modern etiquette is a bit more relaxed. Any other relatives (or even the couple themselves) can take over the job!
Keep in mind that rehearsal dinner venues book up quickly, too—not just wedding venues! If you're hosting your wedding at Treasury On the Plaza, we've created a blog all about unique rehearsal dinner experiences in St. Augustine. Our sister property, the Lightner Museum, offers rehearsal dinners Monday through Thursday, 6 months or less away.
4 TO 6 MONTHS OUT
I. SEND YOUR WEDDING INVITATIONS
You'll want to send out your wedding invitations with plenty of wiggle room. If you're hosting a destination wedding, aim to have them in the mail six months before the big day.
This gives you plenty of time to count up all those late RSVPs and get an accurate headcount for all your vendors. (Trust us, they'll thank you!) Don't forget to talk to a local hotel about reserving a block of rooms.
II. ORDER WEDDING FAVORS AND WEDDING PARTY GIFTS
If you're planning on giving out wedding favors, this is a good time to place your order. Popular choices include koozies, bottle openers, decorated cookies, and even plants.
Gifts to the wedding party are also appreciated.
3 TO 4 MONTHS OUT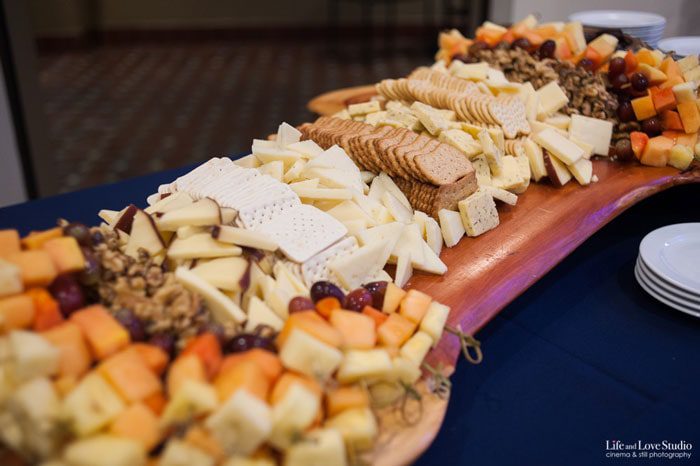 I. PLAN YOUR BAR AND CATERING MENU TASTING
Getting to taste succulent dishes and delicious cocktails is one of the most fun experiences you'll have planning a wedding! If you want to serve a signature drink at the reception, now is the time to ask.
This is also a good time to discuss menu details with your venue and ask questions. For this reason, you'll want to make sure all of the wedding decision-makers are present.
II. APPLY FOR YOUR MARRIAGE LICENSE
This is one part of the process that you can't do without!
You'll have to apply for your marriage license in the state that you're getting married in. If you're already a Florida resident, you can get this at any county courthouse, as they're all valid throughout the state of Florida. Because each county has a different procedure, make sure you do plenty of research regarding when to go, what to bring with you, and how much it costs.
If you're planning a destination wedding, this can make things a bit more complicated. Fortunately, there are plenty of services that will take care of this step for you and send you the marriage license through the mail.
If you're getting married in Florida , this guide will give you an idea of what to expect.
III. COMPLETE A SEATING CHART
Once all the RSVPs have been returned and you have the final headcount, you can start the time-consuming process of creating the seating chart (like this travel-themed one above). If you have a wedding planner, they should be able to help you with this. If not, feel free to ask your wedding venue team for any tips or tools they might have. (We're the experts at what layouts work best!)
This is also a good time to start thinking of options for place cards. A simple folded sign looks great, but don't be afraid to look at more unique options that fit your theme.
IV. CONFIRM ALL VENDORS
Weddings have a lot of moving parts! Take some time to double-check the details with each of your vendors to make sure that everyone is on the same page. If you run across any wrinkles, you'll still have a bit of time to iron them out.
V. BUY YOUR WEDDING BANDS
Your engagement ring was only the beginning!
This is the perfect time to start looking for your wedding bands, aiming to place your order about six weeks before the big day.
2 TO 3 MONTHS OUT
I. GET YOUR WEDDING DRESS ALTERED
It is very common for wedding dresses to need a few alterations before the big day. Aim for at least eight weeks before your wedding and don't forget to bring your shoes and accessories to your appointment.
II. HAIR AND MAKEUP TRIAL RUN
If your stylist or makeup artist includes a trial run as a part of their wedding package, it's definitely worth taking advantage of it!
Research hair and makeup styles that appeal to you and be very upfront about what you like and don't like about each photo.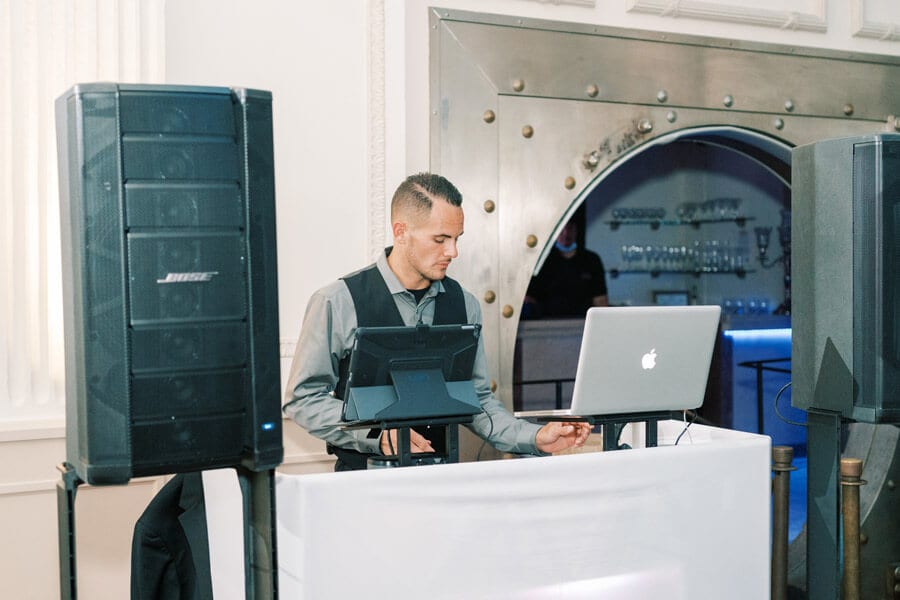 2 TO 4 WEEKS OUT
ORGANIZE PAYMENTS
Your wedding day will be a blur; the last thing you want to worry about is whether or not the photographer got paid.
Write out all the checks in advance and talk to your wedding planner (or someone you trust) about handling final payments and tips at the reception.
II. SUBMIT FINAL GUEST COUNTS
Most vendors will ask that you submit a final guest count about 2-3 weeks before the wedding. If you have any last RSVPs to follow up on, now is the perfect time.
III. SEND REHEARSAL DINNER INVITATIONS
Whoever is in charge of the rehearsal dinner should aim to send out the invites about four weeks in advance.
1 WEEK OUT
I. TAKE TIME TO RELAX!
If you can, try to take some time to relax with friends and family before the big day. After all, when was the last time all of your favorite people were in the same place?
We always recommend planning an activity like a welcome party for all of the wedding guests to get to know each other a little better before the big day.
II. WEDDING REHEARSAL & REHEARSAL DINNER
Meet your officiant, wedding party, ceremony readers, and immediate family at the ceremony venue to walk through the plan for the big day. The rehearsal will both calm nerves and get everyone pumped!
The rehearsal dinner is your chance to meet with immediate family and out-of-town guests as well as exchange gifts with your wedding party. Take a deep breath and enjoy all the well wishes!
CONGRATULATIONS!
Once the big day arrives, you can finally look back on all the planning that led to this moment. While you're in for a lot of work, we hope this wedding planning guide helps to make the process a little bit easier.
We know the day passes by in a whirlwind, but don't forget to take a deep breath and enjoy every moment. This is a day you'll remember for a lifetime!
Here at Treasury On the Plaza, we get so much joy out of making couples' wedding wishes come true! If you've just gotten engaged, we'd love to be a part of making your special day even more wonderful! Learn more about our wedding packages or tell us more about your vision so we can help it come to life.