Wedding Bar Packages
Bar Services and Beverage Options at The Treasury
Are you looking for a unique bar experience for your wedding that you won't find anywhere else? Look no further than The Treasury on the Plaza.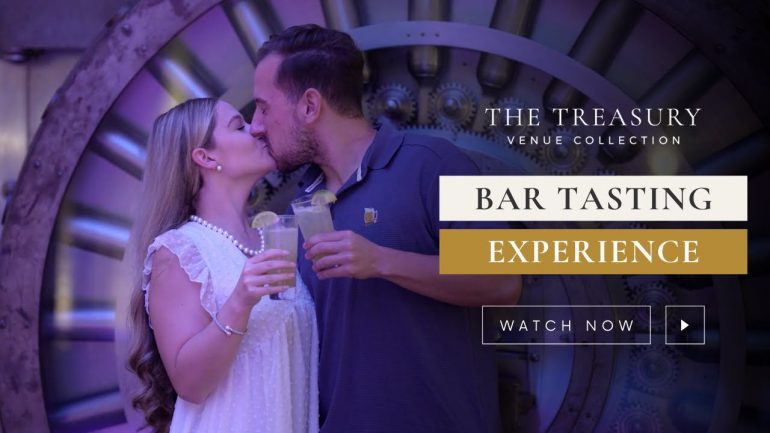 Ain't no party
like a Treasury party!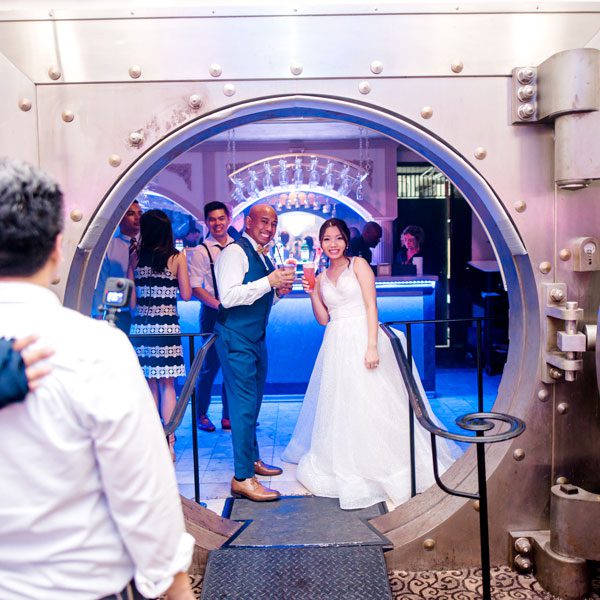 Raise a Glass
Whether you prefer beer, champagne, or a martini, nothing says "party" quite like a fully-stocked bar!
The Vault Bar at The Treasury on the Plaza is one of the most visited spots during a wedding reception. Housed within the original 1927 bank vault, this bar is a truly unique setting. We guarantee that it will be one of the highlights of your wedding experience, and guests will be talking about it for years to come! 
Our goal is to give every couple and their guests an unforgettable wedding experience. Naturally, that includes your bar package. The Treasury on the Plaza offers three different levels of bar packages to suit your needs, with options for a full bar with liquor or just wine and beer. We also have customizable specialty bars and mocktail packages available. 
If you select our Intimate Wedding Package or Eat, Drink & Be Married Wedding Package, your bar package is already included! You have the option to customize or upgrade your bar package for an additional fee.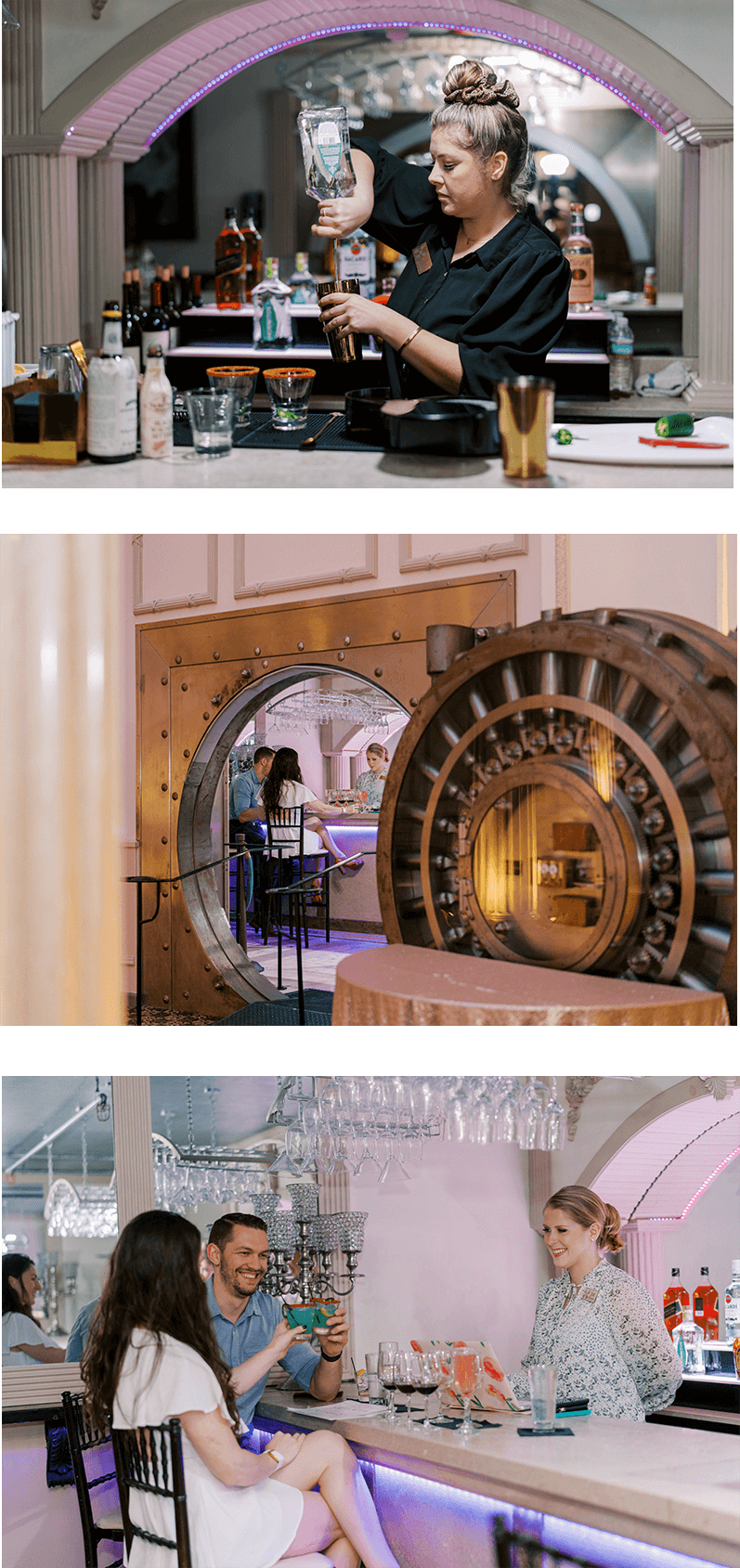 Choose Your Wedding Bar Package at Your Custom Bar Tasting
With so many bar package choices, it can be difficult to decide which options are best for your wedding day. That's why The Treasury on the Plaza offers a one-of-a-kind bar tasting experience that makes choosing your wedding bar package easy and enjoyable. For many couples, this is one of the most memorable parts of the wedding planning process!
You and your significant other will be able to sit back and relax as you meet with your event manager and a member of the bar team to sample and select the perfect beverage options. Bar tastings are typically scheduled 3 months in advance of your event. Prior to your tasting, you'll receive a bar survey from your event manager, so they can be prepared to customize your tasting options.
Our Gold, Silver, and Platinum Packages have all been carefully curated to suit different tastes and price points. You can even craft a specialty cocktail to reflect your wedding theme, tell your story, or honor a beloved family member (or pet).
For couples who are looking for something unique, our customizable specialty bars add a fun twist on the typical bar experience. Choose from a Margarita Bar, Old Fashioned Bar, Mojito Bar, and more! Each specialty bar has its own unique setup and a dedicated bartender. 
For non-alcoholic wedding receptions and those with underage guests, consider our mocktail package. We have a wide selection of curated favorites for you to choose from, or you can create your own! Our bartenders are more than happy to customize the perfect options just for you.
frequently asked questions
Click below for some of our most frequently asked bar package and bar tasting questions. If you have more questions, our team is eager to assist you! You can call us at 904-217-0077. If you have already booked your event with us, you can contact the events team at events@thetreasurycollection.com.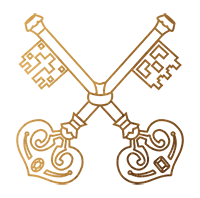 Bar Package F.A.Q.'s
We know you have questions. Thankfully, we have answers.
Your bar package covers the entire length of your reception, including cocktail hour, with a maximum of 5 hours of alcohol service.
We are often able to customize the bar package options to include your favorite brands! Speak to your event manager regarding your needs and we can look into available options. *Bar package selections are based on availability.
Yes! Specialty cocktails are included as a part of our full bar packages, as long as all of the ingredients for your specialty drink are included as a part of your package choices. (We have a ton of options that are already included!) When specialty ingredients are needed, you can customize your drink options for an additional fee.
Yes! These options can be added to your bar service for an additional fee. Guests love cheers-ing with some bubbly, whether that's in cocktail hour or during speeches. Tableside wine service is a great option, especially with a plated dinner. This allows guests to enjoy wine with dinner, without having to get up while they are eating!
For non-alcoholic wedding receptions, The Treasury offers customizable mocktail packages.
No, we are not able to offer a cash bar.
The Treasury on the Plaza is fully licensed and insured for alcohol service. All alcohol must be provided by the venue.
Most bar tastings take place approximately 3 months in advance of your event. Our events team highly recommends not scheduling your bar tasting any earlier than 4 months prior to your wedding. You can email our events team at events@thetreasurycollection.com to schedule your tasting.
It is highly recommended that you limit the number of people you bring to your bar tasting, so your choices will truly reflect your preferences. Bar tastings are limited to a maximum number of 4 people.
Your tasting will take place at The Treasury on the Plaza, in or around the bar located inside the original 1927 bank vault!
If you are unable to travel to St. Augustine specifically for your bar tasting, we can do your bar tasting on the same day as your final walkthrough. (Your bar tasting would be directly after.) Final walkthroughs are usually done approximately 30 days out from your wedding date. If a couple cannot travel in at all for any meetings prior to the wedding day, we can do everything via email or over the phone.
Absolutely! Take a moment to review our Bar Packages and see which may be the best option for you! Reach out to our events team and they'll assist with the rest! (events@thetreasurycollection.com) Our full bar packages with 2-3 upgraded drinks range from $50 to $70 per person, plus service charge and tax. The pricing really varies on the brand of wines and liquors. If you have any specifics that you would like quoted please let us know!
The 20% service charge on all bar packages is different from a gratuity or tip. The service fee covers everything on your bar, from glassware to staffing and the actual servicing of your bar. Good ol' Uncle Sam requires that we charge taxes on service fees! Tipping at the end of the night to show appreciation to your bar staff is at your discretion.
Yes, our Custom Package requires a bar minimum of $4,000. Most couples easily exceed this minimum! (The bar minimum excludes taxable service fees and applicable taxes, which can be found on your contract.)
No, shots cannot be served as a part of your bar service.
The number of bars and bartenders varies, depending on your final guest count and bar selections.
---
Let's Get This Party Started!