These days, there's no such thing as a "typical" wedding. Instead, couples make their big day a reflection of their individuality. From color palettes to entertainment, the emphasis is on personalizing each detail and making each moment meaningful.
There are seemingly endless ways to think outside the box for your wedding, but one of our favorite ways to get creative is with your wedding favors!
Unique wedding favors are a beautiful way to let your guests know that you appreciate the time that they took to attend your wedding. They can also serve as a keepsake and reminder of the amazing memories that were shared that day.
Are you ready to be inspired? Let's take a look at some of our favorite unique wedding favors!
Location-Inspired Wedding Favors
As the nation's oldest city, St. Augustine has plenty of history to inspire some unique wedding favor ideas.
1. Water From the Fountain of Youth
Reflect the local legends with vials of water from the Fountain of Youth or a bag of pirate doubloons. This unique water quenched Ponce de Leon's thirst in his quest for eternal life, and was instrumental in the 1565 decision by Pedro Menéndez to establish the First Colony of St. Augustine.
2. Local Datil Pepper Hot Sauce or Datil Jelly
Hot sauce or jam is another excellent way to show off the amazing treats the city has to offer! The datil pepper is one of the most popular locally grown products in St. Augustine. Datil peppers are sweet, with a fruitful tangy taste to them, which makes them the perfect ingredient for a tasty hot sauce or spicy jam! Check out a few of our favorites, A Frame Sauce and Minorcan Mike's Datil Pepper Jelly.
3. Local Honey
There's nothing sweeter than local honey! Did you know that honey is unique to each geographical location? Honey from St. Augustine tastes different from anywhere else! A few of our favorite local honey companies are The Honey Truck and Bee Hill Farm. (Both are available at the Saturday Farmer's Market at the St. Augustine Ampetheater!)
4. Keys to The Treasury
You could also look to your venue for inspiration. Give a nod to The Treasury on the Plaza's history as a bank (and reflect our logo!) with bottle openers shaped like keys.
5. Treasury-Themed Boxes
Satisfy your guests' sweet tooth with a box of candy that says, "We 'Treasure you celebrating our big day."
Holiday & Seasonal Wedding Favors
For weddings with seasonal or holiday themes, finding unique wedding favors is as easy as it is fun.
6. Christmas Ornament
If your event has a specific "Christmas" theme, consider a customized ornament.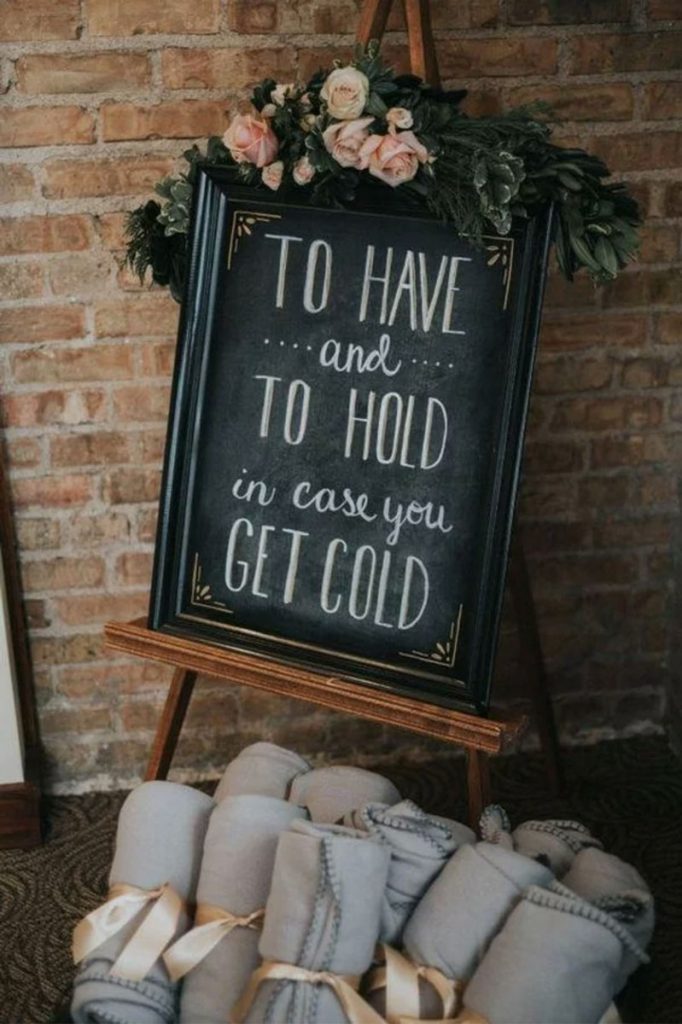 7. Cozy Blankets to Keep Warm in the Winter
Hosting a winter wedding? Cozy blankets are sure to warm your guests' hearts.
8. Valentine's Day Candy
Nothing says "love" quite like a Valentine's Day wedding! We loved how Alex and Andy channeled their inner Cupid with candy-filled koozies to thank their guests for joining them on their special day!
9. Halloween Candy
If you happen to be hosting your wedding on or around this spooky holiday, you could let your guests trick or treat for Halloween candy! For more tips on hosting a stylish Halloween wedding, check out the blog from our sister property, the Lightner Museum.
Unique Wedding Favors To Celebrate Your Heritage
Here at The Treasury on the Plaza, we celebrate love and diversity, and we love seeing the many ways couples choose to honor their heritage.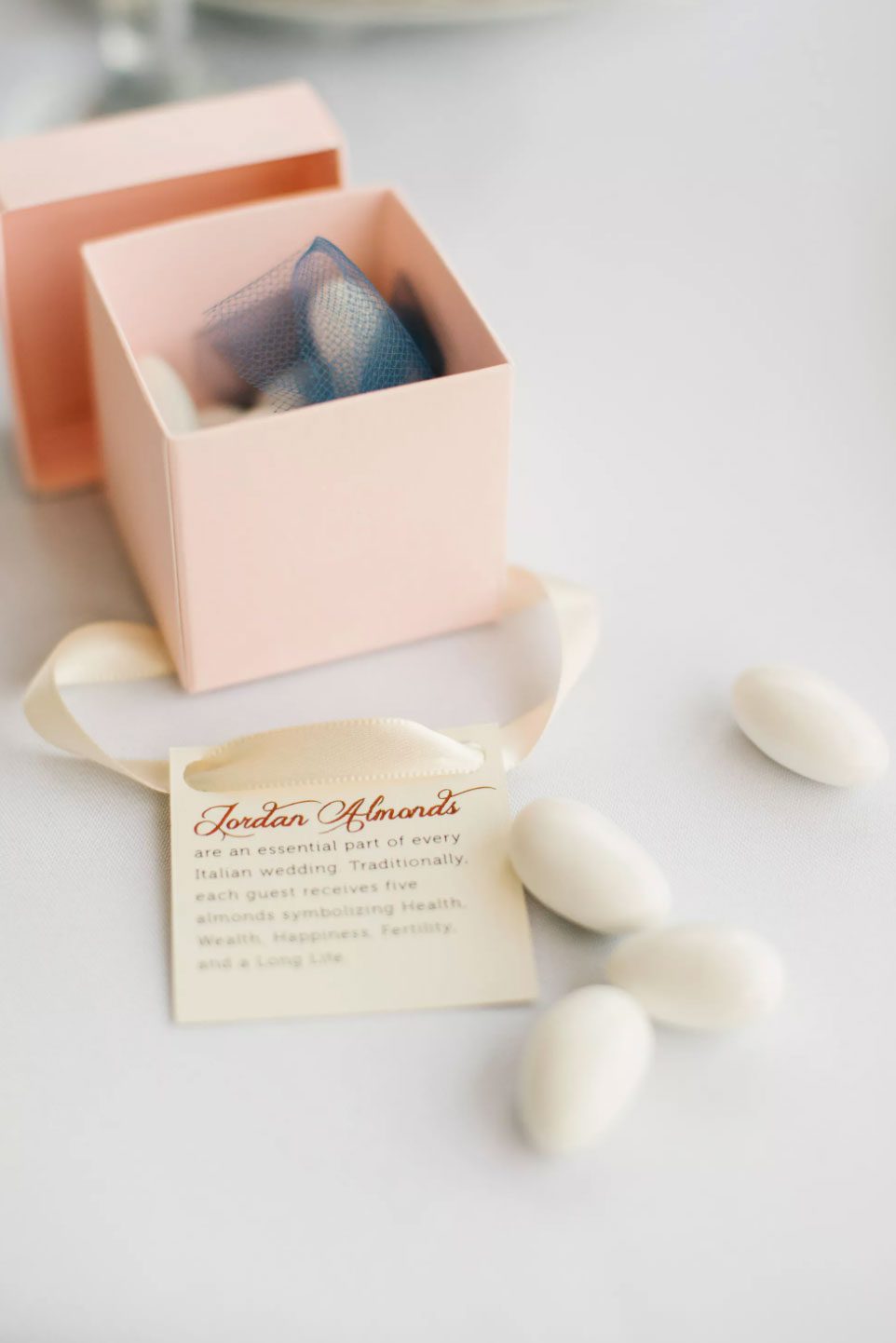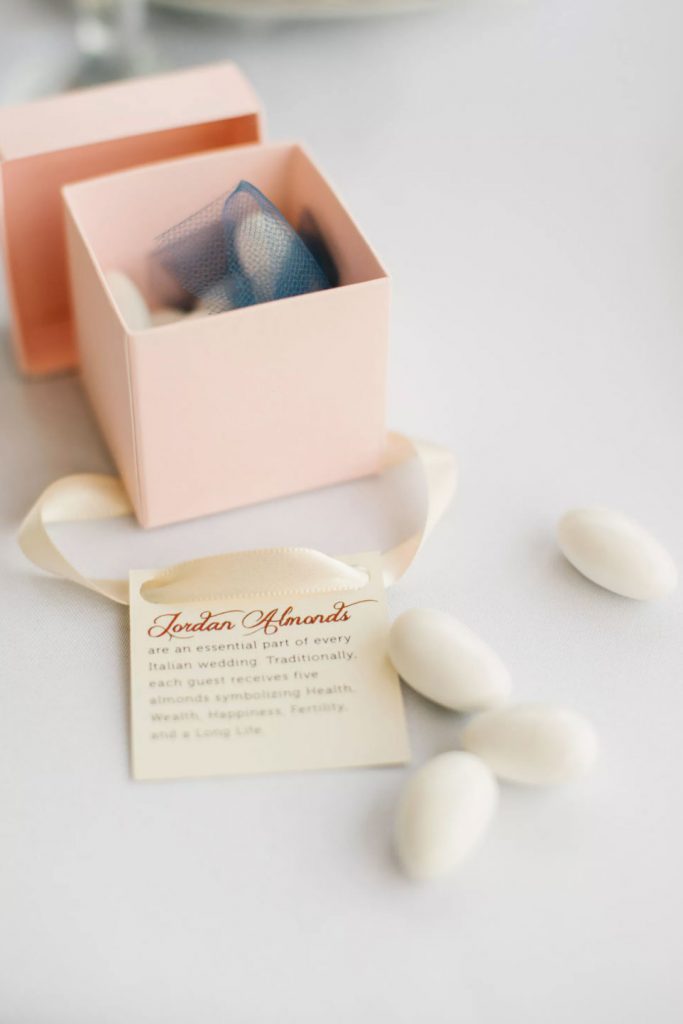 10. Jordan Almonds
Jordan almonds are a popular wedding favor, particularly at events hosted by families of Italian, Greek, and Middle Eastern descent. These sugar-covered almond candies date back to the time of the ancient Romans, who used the almond candies to celebrate a variety of occasions, from weddings to births.
11. Bottles of Olive Oil
Felicia and Lee gave a nod to their Italian heritage with customized bottles of olive oil! We loved their "Olive Our Love" tags.
12. Wedding Favors Inspired by Your Last Name
Brianna and Donald took their themed wedding favors one step further. They based their wedding favors on their last name. With the surname "Graham," offering s'mores as a wedding favor was an obvious choice!
Share Your Favorite Things
Your big day is all about the two of you. What better way to represent your passions and interests than in your wedding favors?
13. Custom Brewed Craft Beer
Choosing the perfect alcoholic beverage can go beyond just what you serve at your wedding bar. For example, Lightner Museum couple Chris and Kate were big craft beer aficionados! They decided to have a custom craft beer given to guests as a wedding favor as they departed what the couple dubbed "KateTopherFest," as a nod to Oktoberfest.
14. Wine Stoppers
Do you and your fiance love to enjoy wine together? Consider customized wine bottle stoppers as wedding favors. Katie and Matt's wine stoppers were extra special. The bride's father handmade wine stoppers out of the wood of a Maple tree! (The leaves of a Maple tree grow in pairs opposite each other.)
15. Your Favorite Coffee Blend
Craft beer or wine may not be your favorite thing, but what about coffee? Coffee bean wedding favors can give your guests an extra jolt of energy after a long weekend of wedding festivities! Yenny and Benjamin created the "Perfect Blend" with their coffee bean and coffee cup favors.
16. Seeds and Succulents for the Plant Lovers
Succulents and seeds are the perfect way to share your green thumb with all of your wedding guests! Let your love grow for many years to come!
17. Custom Dog Treats
If your guest list is full of pet parents, custom dog treats will show them that you remembered your furry friends and family too.
Edible Wedding Favors
Everyone loves a tasty treat! If you're going for food or snacks as a wedding favor, adorable packaging is a must and makes everyone feel special. (Bonus points if you can work in a pun!)
Chocolates, candy, cookies, donuts, popcorn, and even homemade jam are perennial favorites that guests of all ages will love.
18. Cookie Favors
Pre-packaged cookies make a pretty and sweet treat! Warning: sometimes these custom confections look too pretty to eat!
19. Boxed Chocolates
Chocolates are always a great go-to wedding favor. They are also a great option for an indulgent gift, without breaking the bank. You can find chocolates at every price point! You can also dress them up with fun packaging, or keep them simple.
20. Custom Spice Rub
Any grill masters out there? Consider a custom spice rub! Our groom Patrick, who happens to be a chef, custom made four different kinds of spice rubs based on where he and the bride had lived or visited.
21. Chick-Fil-A Sandwiches
Don't be afraid to think outside the box! Shelby and Ryne offered Chick-Fil-A sandwiches at the end of the night that were wrapped and ready for guests to take home.
Useful Favors
Just because you consider yourself to be "practical" doesn't mean you need to forego unique wedding favors!
Coasters, bottle openers, koozies, lip balm, and hand sanitizer are all useful long after you've come back from your honeymoon.
22. Flip Flops
Flip flops will give achy feet a break after a long session on the dance floor.
23. Luggage Tags
Are your guests traveling to your wedding from great distances? Maybe you're planning a travel-themed wedding like Mara and Matthew did for their wedding at The Treasury on the Plaza. Luggage tags are the perfect gift to give your guests to remember you on all of their future adventures!
24. Koozies
Can you guess our most popular wedding favor? If you guessed koozies, you're right! There are endless possibilities when it comes to customizing koozies. We love fun sayings, like "What happens in The Vault…stays in The Vault!"
25. Hangover Kits
For their wedding, Stephanie and Hunter handed out hangover kits! We're sure their guests appreciated it the next morning!
Wedding Favor Alternatives and Charitable Donations
One idea that is growing in popularity is replacing wedding favors with a donation to charity.
26. Make a Charitable Donation To Help Foster Dogs
Treasury bride Katie was passionate about fostering dogs and helping them find loving families. Instead of spending money on favors for their guests, the couple opted to make a donation to help five foster dogs find their forever homes. One of her neighbors took the idea literally and adopted one of the precious pups–a living wedding favor to enjoy for years to come!
27. Donate to Causes That Are Important to You
Nicholas and Cassandra made donations to their favorite animal shelter and the American Civil Liberties Union (ACLU) in lieu of favors for their wedding. If you do decide to support a charity instead of doing favors, follow their lead and put out signage to share your donation with your guests.
Celebrate Your Big Day
Your wedding is a celebration of the two of you: your story, your personalities, and your love. Every aspect of your wedding–from your venue to your wedding favors–should reflect that!
The Treasury on the Plaza wants each and every couple that comes through our doors to feel seen and catered to on their big day. That's why our team is here to provide inspiration and guidance along every step in your wedding planning journey!
Ready to learn more? Give us a call to schedule a tour.