The Treasury on the Plaza's Guide to Engagement Ring Shopping
Shoppers today have access to anything and everything at the touch of a button. You can purchase clothes, your groceries, or even a car, and have them delivered right to your door! With this much accessibility, you would think that engagement ring shopping is easier than ever before. Although the process of purchasing might be easier, finding the perfect ring can still be a challenge.
Knowing this, The Treasury on the Plaza has created a handy guide to engagement ring shopping, including who you should ask to help and advice from brides and jewelers.
1. How To Shop for an Engagement Ring
For most people, purchasing an engagement ring only happens once in a lifetime, so knowing where to start can be very overwhelming. It's a large investment, a massive milestone moment, and one of the biggest questions you will ask someone in your entire life! So how do you even begin to shop for and pick the right engagement ring?
Start by looking online for engagement ring ideas
Like other large purchases, looking online gives you endless information to help you get started with buying an engagement ring—from ring pricing to ring design ideas, to different types of diamonds and more.
Browsing online can also give you an idea of what types of rings, carat weights, or gemstones match your price point, and how much you should spend on an engagement ring. Social media sites like Instagram and Pinterest are a good starting point for your engagement ring research. Searching for "engagement ring shopping" will give you endless links to other sites with resources.
If you are looking to surprise your partner with a ring, consider looking online in incognito mode so your searches don't pop up in your browser history. You don't want to give away the surprise too early!
Where to buy an engagement ring
When you begin shopping, you may be overwhelmed by the amount of information or styles available for engagement rings. Orlando, Florida-based engagement ring designer Sandy Rubin says, "It is okay if you don't know exactly what you want. It can take a conversation with a jeweler, and looking at several options, to help you gain a better understanding. Work with a designer that makes you feel comfortable and will help walk you through the process."
Consider shopping at a local jeweler, rather than through large jewelry shops. Local shops are known to be more personal and responsive, provide more ring education, and have better inventory options.
"Walk into a local jewelry store and you should have access to the deep knowledge base of your experienced gemologist and jewelry. You should be free to ask any and every question," says Clay Nettles, owner of Nettles Fine Jewelry in St. Augustine, Florida.
Local jewelry shops will allow you to shop and explore unique ring options that may only be available in your local area. Larger stores supply rings that interest the general population, so when you purchase from a chain jeweler, there is a high chance that someone you know may have the same ring as your fiancé.
Not all engagement rings are diamonds anymore! Brides today are requesting non-traditional engagement rings, often with stones like moissanite, emerald, or sapphire, which may not be as available in engagement rings in larger shops. A local shop might also offer cost-saving opportunities, such as alternative stone options that fit within a particular budget.

Ask friends or family for help with engagement ring shopping
Before purchasing an engagement ring, ask your partner's best friend or family member for help. No one will know their style better!
Often, soon-to-be brides send their friends an engagement ring wish list as inspiration for their dream engagement ring. Your partner's friends may already have a good idea of what they love. Shopping with a sibling or future in-law may also help you score additional brownie points!
Treasury on the Plaza bride Lindsey worked with her family to make sure that her now-husband Rory had an idea of what she liked before he went shopping.
"I went to Diamonds Direct and picked out what I liked with my cousin. They wrote down my 'likes' on a card for Rory to have when he went shopping. It was a great experience!" Lindsey adds, "With it being such a big purchase for something that will be worn your whole life, it is very acceptable for the girl to have some impact!"
Get it, girl! We love that Lindsay was proactive in ensuring she got a ring she loved. As you can tell from the photo below, she has great taste!
2. The Best Time To Buy an Engagement Ring
The most popular time to get engaged (known as "engagement season" in the industry) is between Thanksgiving and Valentine's Day. The general cheer of the season, family visits, travel opportunities, and multiple holidays all make for the perfect time to pop the question!
With this in mind, someone planning to propose during this window of time should plan ahead! Custom rings can take upwards of three months to be designed and delivered. If you are completely unsure of what style ring your partner would like, begin researching styles and shops in the summer months, so you have a few months before purchasing and don't feel rushed.
Laurel Baker with Anchor Boutique in St. Augustine, Florida, recommends starting ring shopping no later than eight weeks before you plan to propose. If you are planning to propose during the engagement season, this means that you should consider purchasing a ring in August or September.
Consider contacting jewelers before entering a store to learn more about their specific ordering information. Jewelers offering custom rings may have a different process than those specializing in ready-made rings. Your jeweler will share their honest advice and give you more specifics on the timeline and delivery dates.
3. Engagement Ring Shopping Advice From Real Couples
Katherine & Will
"We went to a few jewelers in Atlanta to see what cut I liked. Then my husband spoke with Liz Legg, a local jeweler in Birmingham, AL, who makes beautiful heirloom jewelry, and she created my ring."
Katherine's advice for engagement ring shopping is to "plan ahead of time and make sure you're going to get it in time for when you want to propose. Also, going through a local jeweler is cheaper than those [large] diamond stores. Liz Legg handpicked a few diamonds from her diamond buyer in NYC for us and it was much cheaper than buying a ring already made."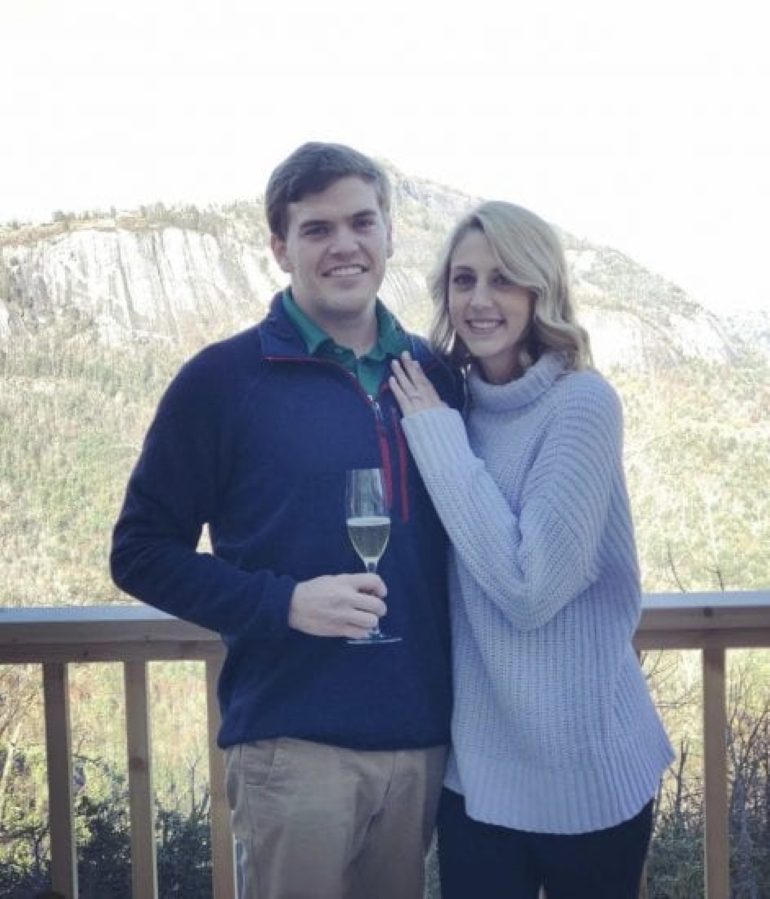 Sara & Michael
"Michael custom-made the ring on Jared.com. We had gone multiple times to look at rings and I thought for a FACT, I wanted a double halo cushion cut—until the last time we tried them on and I fell in LOVE with my shape. He took that as inspiration and created the masterpiece all by himself. I had no idea what the ring would look like, but I trusted Michael enough to pick the one he thought would be perfect based on my guidance."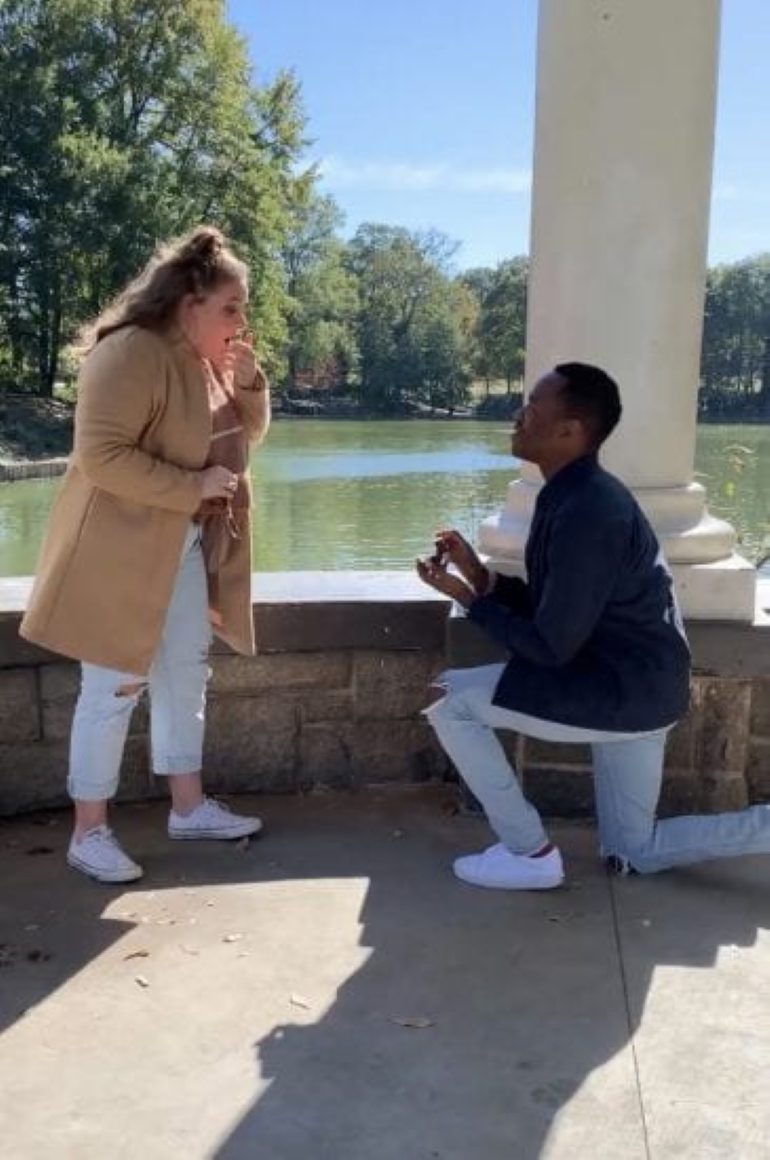 Adrianne & Jake
Jake purchased Adrianne's engagement ring from International Diamond Center. "He was able to look at multiple diamonds in varying sizes, cuts, and colors. He basically designed the ring himself and he was very proud of that!"
Adrianne's advice: "If you have a particular cut or style in mind (and you've already talked about getting engaged), make it known!"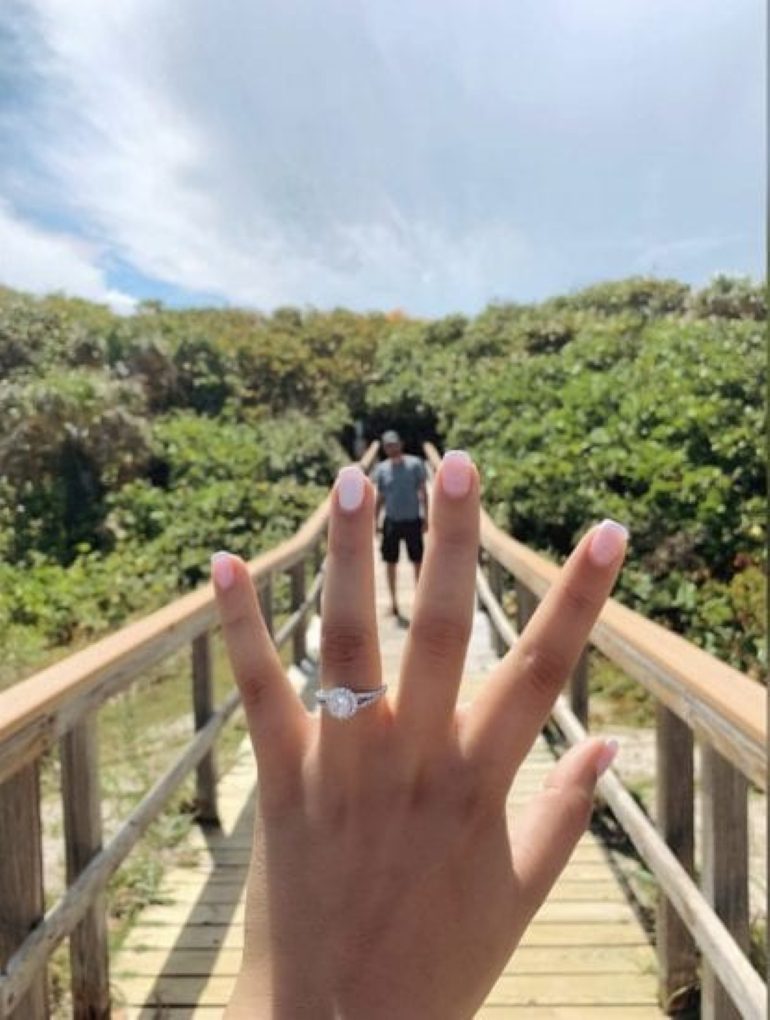 We hope that you have enjoyed The Treasury on the Plaza's Engagement Ring Shopping Guide!
Purchasing an engagement ring is a big investment and one of the most important gifts you will ever give someone. While there is pressure to purchase the right ring, there are also a ton of great resources to guide you along the way.
Be sure to look online, ask your partner's friends and family, and call around or walk into local shops to help you find the perfect engagement ring. No matter which ring you choose, your partner will love all the thought and effort you put into picking something special!
Once they say yes, be sure to check out The Treasury on the Plaza's ultimate wedding planning guide and contact our team for more information about planning your upcoming wedding.