What is more romantic than standing in front of all your friends and family, professing your love and commitment to your significant other? Then after vows have been exchanged and you've had that first kiss as a married couple, it's time to celebrate! With performers, games and so much more, the entertainment at your wedding reception can be so much more than music and dancing.
The Treasury on the Plaza team is here to help you have a truly magical wedding, so we're sharing some fun wedding reception entertainment ideas that will make for an unforgettable party.
If you want your guests to be talking about your wedding long after it has ended, here are some fun ways to entertain your guests at your wedding.
1. PICK THE PERFECT WEDDING DJ OR BAND FOR YOU
Music is the most common entertainment choice for a wedding reception, and for good reason. Step one in making sure guests have fun at your wedding is to make sure that they stay out on the dance floor all night long.
Choosing between a band and a DJ for your wedding reception entertainment is up to your personal preference. Our advice is to find a DJ or band with plenty of wedding experience, as well as someone who understands your taste in music and is a good match for your personalities.
Besides being in charge of wedding reception entertainment, your DJ or band leader also acts as your Master of Ceremonies.
As the "MC," they will make important announcements, introduce the toasts, and help you stick to your wedding timeline. If you want to have a fun wedding reception, this is a step you absolutely want to get right, and you'll want someone who is knowledgeable and comfortable introducing the Maid of Honor, transitioning between dinner and dancing music, handling requests from your family, and more.
If you have specific songs you want played at your reception, a DJ is probably the way to go because not every band will have everything in their repertoire. Many experienced DJs and bands can make changes to their setlist to accommodate your requests, but some have a specific style of music that they specialize in. If you and your guests want to dance to bachata all night, you probably want to stay away from a band that specializes in classic rock.
And if you're looking for more entertainment than simply playing tunes, choose a band or DJ who will interact with your guests and help get everyone involved in the fun. Whether it's by playing musical games or line dances, tell your music pro exactly what you're looking for, and let them work their magic.
2. BRING IN A LIVE PAINTER TO CAPTURE YOUR WEDDING RECEPTION
Watching a master work is something special to behold, and the same goes for watching a live painter in action. While it might seem like watching someone paint is about as much fun as watching paint dry, we can assure you that you and your guests will love the process as well as the end result.
After all, The Joy of Painting has been off the air for almost three decades and Bob Ross is still a household name.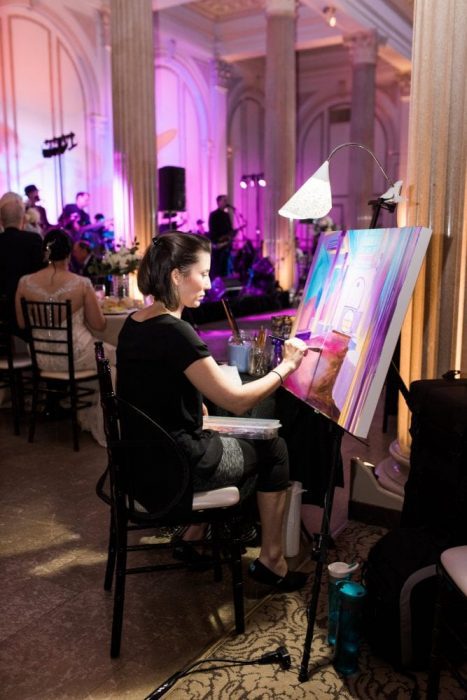 Not only does a live painting make a unique guest experience for your reception, but you also get a really wonderful keepsake to display after your wedding. From your first dance to every guest watching the cake cutting, a live painter can capture whatever moment you want. We have seen some amazing artists paint incredible portraits for some of our Treasury on the Plaza couples, capturing iconic moments from the night, right there for your guests to see.
3. HIRE A BALLOON ARTIST
Weddings can sometimes be a little too formal. Everyone is dressed to the nines looking great, there's the pomp and circumstance of the ceremony, the parent dances, the toasts, and so many different formal elements of the evening. Sometimes, we adults just need a little reminder that we're also here to celebrate and have fun.
There was once a time when you would only consider a balloon artist for a children's birthday party, but trust us when we say that this isn't someone walking around in clown makeup whose job is to keep the kids entertained while the parents try to enjoy a night out.
With balloon artists like Twist of Fun! popping up with unique and fun wearable creations, this new trend is being embraced by many brides and grooms. These days, balloon artists can do more than your typical dog or sword. Bring in a team of balloon artists for your wedding reception entertainment and you and your guests will be amazed at what they can create.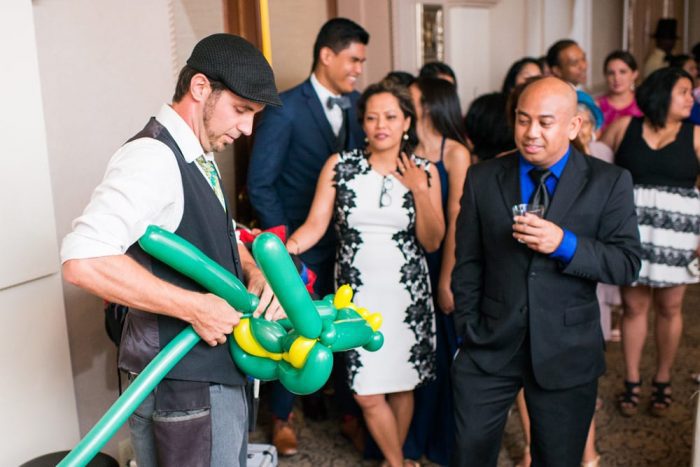 A balloon artist at your wedding reception can provide just the unique entertainment you're looking for. Plus, it will make for some hilarious and incredible pictures!
4. PLAN A CHOREOGRAPHED DANCE OR HIRE PROFESSIONAL DANCERS
There's a reason organized dances and well-known songs are so popular at weddings. Sometimes guests need a little bit of inspiration to show off their best moves out on the dance floor.
Lead the way by planning a choreographed dance with your new spouse or with a few members of your wedding party who like to boogie. This is also a great opportunity to involve your family on your wedding day.
Similarly, you can hire professionals to dance to your favorite style of music or perform a dance that is special to your cultural heritage. We promise everyone will have their phones out recording it before getting in on the action themselves.
5. MAKE SURE YOUR BAR IS FULLY STOCKED
Dancing juice, liquid courage, social lubricant…whatever you want to call it, a little bit of alcohol can go a long way toward helping your guests let loose and have fun.
Here at The Treasury, we like to take having fun with your bar to a whole new level, what is more fun than visiting a bar inside of an old bank vault?! We have some amazing bar packages, created to give you a head start with choosing the perfect selections that will help get your guests out on the dance floor.
Looking for something more unique? Choose signature cocktails for the bride and groom that capture each of your personalities, or talk to our team about creating specialty cocktails just for your big day.
If you want your guests to enjoy and remember your wedding reception, spare no expense at the bar.
6. PULL OUT ALL THE STOPS WITH SPECIAL EFFECTS
When you really want to turn up the fun factor, it's time to give 'em the 'ol razzle dazzle, and there are some incredible options out there for special effects at your wedding reception.
Here at The Treasury on the Plaza, we offer several different Hollywood Special Effects Packages. One of these options that couples love is the romance of "dancing on a cloud" for their first dance. Having a fog machine during your dance gives you a floating sensation while you're on the floor and makes for great pictures afterward. Special upgraded lighting can also transform your wedding reception from an elegant dining experience to a nightclub at the touch of a button.
One of our favorite options in the Hollywood Packages is the "cold sparks." These non-flammable sparkler fountains add a spectacular grandeur to reception entrances and exits!
And all of the above make for memorable photos you and your guests can enjoy for years to come.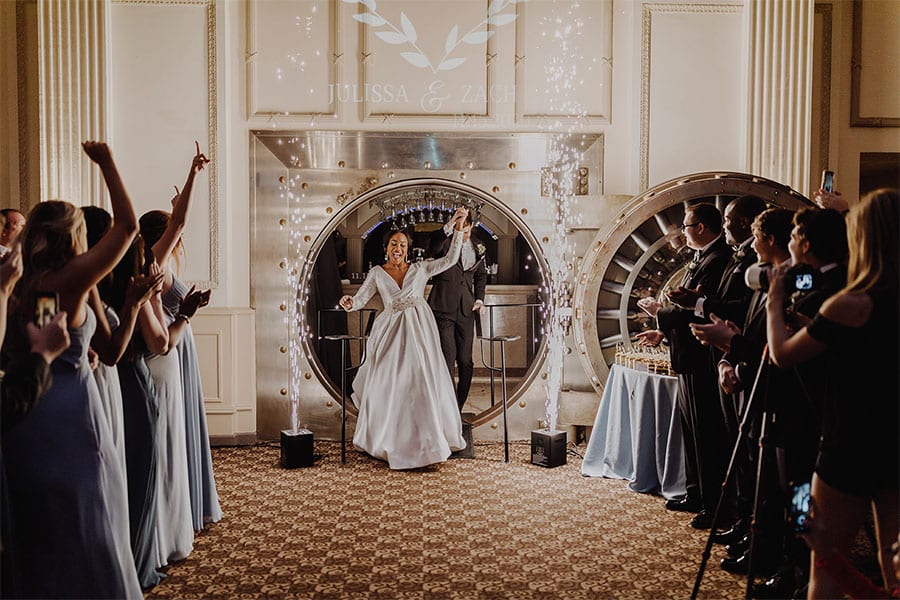 7. SWITCH UP YOUR LOOK FOR YOUR RECEPTION
Your wedding day is your time to shine and feel your best, so don't be shy when it comes to making a wardrobe change.
We love when our couples switch up their look for fun or function for the wedding reception. Many bridal fashion designers are even creating gowns that can transform throughout the day with elements like removable sleeves and overskirts. Some brides also have a reception dress (or jumpsuit!) that they can change into for dancing. When you feel fabulous and comfortable, no one will be able to keep you off that dance floor!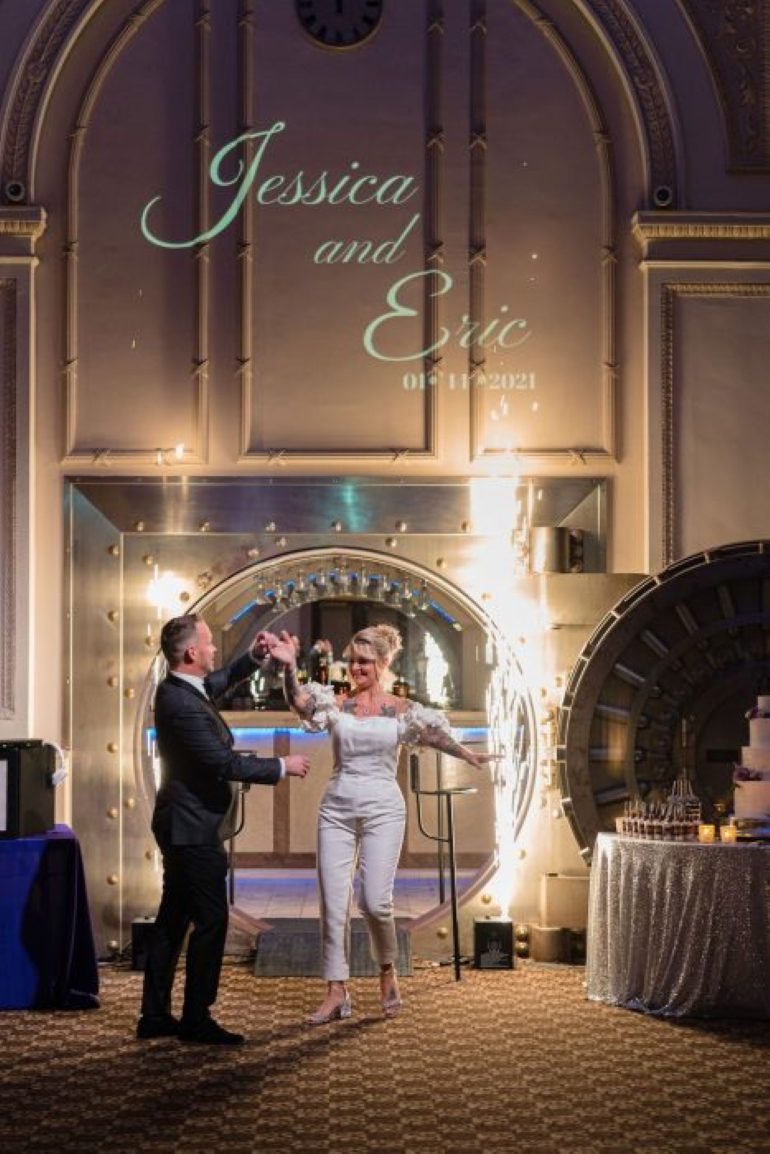 And each time you change it up, your guests will be on the edge of their seats to see what's next. This is your day after all.
If you're looking for even more ideas of how you can take your wedding reception to the next level, give us a call to discuss what fun entertainment ideas you have. This is your day, and Treasury on the Plaza is here to make it as special and exciting as you want.