Venue History
Saint Augustine's First & Only Skyscraper
24 Cathedral Place…
Through the Years
The Treasury on the Plaza is located in St. Augustine's first and only skyscraper. The six-story building and its mezzanine went under construction in 1926, the same year as the opening of St. Augustine's famed Bridge of Lions. The building held the premier bank in St. Augustine's downtown historic district up until it was converted to a private event venue in 2014. It has been known by many names over the years, including The First National Bank of St. Augustine, The Exchange Bank, The Espinoza-Sanchez Building, and The Atlantic Bank Building.
Throughout its history, the building has served as a space for art and cultural exhibits, historical shows, community gatherings, and as a symbol of prosperity for the city. The building is listed on The National Register of Historic Places in honor of both its architectural and historical significance to Northeast Florida.
Cathedral Place in the early 1900's
Cathedral Place in the early 1900's was a much quieter street. The Cathedral Basilica stands on the left with the original First National Bank Building on the right.
1904
1926: Construction Begins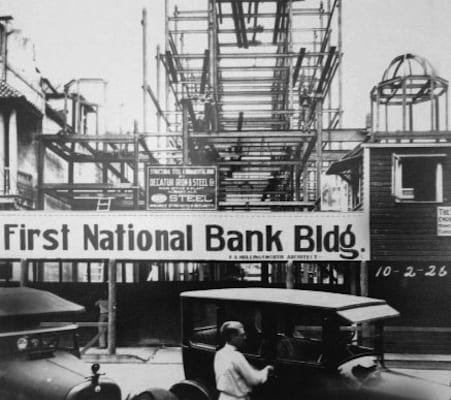 October 2, 1926. The new First National Bank Building is under construction. Framing for the top of the tower sits on top of the building to the right.
1926
1927: Construction Completed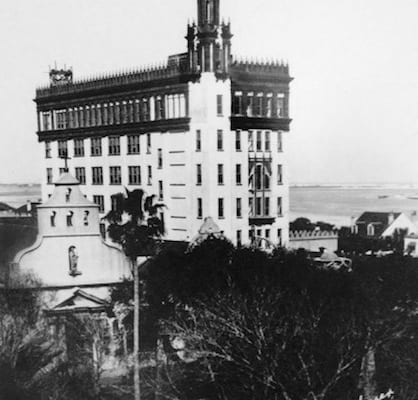 The building stands tall in 1927. The view across the water to Vilano and Davis Shores shows an empty landscape.
1927
1928: Inside The First National Bank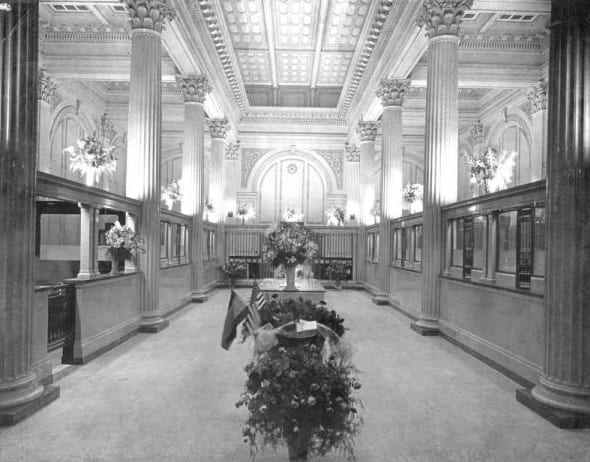 The historic First National Bank lobby was a sight to behold. Fresh flowers were delivered weekly to adorn the lobby.
1928
1941: Christmas at The Exchange Bank
The First National Bank became The Exchange Bank in 1939. This photo depicts staff in front of the vault during Christmastime in 1941
1941
1949: The Exchange Bank Concession Stand
In 1949 a concession stand opened in the lobby of the Exchange Bank that served tobacco, cold drinks, and other wares. This area now houses The Grande Foyer Concierge Desk.
1949
1951: Movie Premieres in front of The Exchange Bank
The Matanzas Theater opened in the late 1930's next to The Exchange Bank building. Movie premieres drew large crowds to The Plaza.
1951
1953: Christmas Decor at The Exchange Bank
Over the years Christmas decor became more elaborate inside the bank, reflective of the prosperity of the time.
1953
1960's: Modern Development
The 1960's began a new area of development in St. Augustine, especially in the beach areas.
1960s
1979: Digital Clock atop the bank
In the 1960s a digital clock was installed atop the bank building. For many years locals relied on the time and temp clock to keep them informed. This photo shows the clock in 1979 at the top of what was then the "Atlantic Bank of St. Augustine." The clock has since been removed.
1979
Visit us
24 Cathedral Place
Suite 111
St. Augustine, FL 32084