It's no secret that St. Augustine has become one of the most popular locations in Florida to host a wedding. Locals and destination couples alike have fallen in love with St. Augustine for its romantic old world charm, and for the plentiful number of things to see and do before and after a wedding celebration. Who can blame them?!
With the help of FloridasHistoricCoast.com, we're counting down The Top 10 Reasons to Get Married in St. Augustine!
10. Top-Notch Accommodations
Historic hotels, charming inns, seaside resorts, vacation homes – these are just a few of the lodging choices available on in St. Augustine and the surrounding areas. And with more than 5,800 guest rooms, this area has plenty of options to suit the needs of every wedding guest.
9. Welcoming People
Since 1821, the hospitable residents of Florida's Historic Coast have welcomed guests to this part of Florida. From the moment guests arrive until the day they depart, those who are lucky enough to call this place home are proud to share the wonders of Florida's Historic Coast. For many, making guests feel at home is a family tradition – it's been a part of life here for generations.
8. Easy Airport Access
Florida's Historic Coast is served by Jacksonville International Airport (JIA) – a 50-minute drive from downtown St. Augustine and 30 minutes from Ponte Vedra Beach. Also, the Northeast Florida Regional Airport in St. Augustine is a full-service aviation facility that can accommodate private aircraft of all sizes. To the South, Daytona Beach International Airport (DBIA) provides service to more than 150 destinations worldwide. Many guests to St Augustine like to make the most of their trip by also taking advantage of the Orlando area attractions by flying into Orlando International Airport (MCO) or Orlando Sanford International Airport (SFB).

7. Legendary Golf Courses and Outdoor Opportunities
One of the world's great golf destinations, Florida's Historic Coast can add recreational flair to any wedding weekend. TPC Sawgrass, home to THE PLAYERS Championship, the World Golf Hall of Fame, and two championship courses at World Golf Village are just a few of the golf courses available for pre- or post-wedding outings. For those seeking other outdoor adventures, we've got beaches with inspiring sunrises and sunsets, secluded islands, guided kayak tours, sailing expeditions, and even horseback riding at the edge of the sea.
6. Fabulous Weather
Mild weather is a trademark of Northeast Florida, where gentle ocean breezes and soothing temperatures are a daily occurrence. Average daily temperatures range from a low of 57 F in January to a high of 81 F in August. And summers are among the coolest you can find in the Sunshine State.

5. Seaside Splendor
With 42 miles of pristine Atlantic beaches, Florida's Historic Coast is an ideal location to have some fun in the sun. Vilano Beach, St. Augustine Beach, and Crescent Beach offer seaside grace and elegance that is rated among the best in the world. Anastasia State Park has tons to do–from kayaking and paddleboarding to camping– and also has beach access. With tons of exceptional seaside resorts, restaurants, and parks only miles away from downtown, your guests have plenty of opportunities to take in that Vitamin D.
4. Culinary Delights
Florida's Historic Coast is a dining adventure, where the best of Spain and the Mediterranean combine with traditional Southern dishes to create a smorgasbord of tantalizing dishes. The freshest seafood, locally grown produce and culinary traditions refined over the centuries are featured at restaurants, including fine-dining venues, sidewalk bistros, rustic waterfront grills, and seaside eateries. Here at The Treasury on the Plaza, we've curated a list of the top local caterers that can help you create the perfect menu for your big day.
3. Historic Backdrops
The rich history of the Nation's Oldest City and authentic old-world charm at every turn combine to create the perfect backdrop for making lasting memories. Founded in 1565, St. Augustine remains a vibrant setting for memorable experiences. Unique attractions, historic hotels, charming inns, museums, and historical sites provide inspiring places to celebrate life's special events.
2. Outstanding Wedding Vendors
St. Augustine has become one of the most sought-after destinations for weddings in America. The demand for weddings and special events has brought some of the best wedding professionals to the area to fill the needs of engaged couples. All of the services needed for a successful event, including wedding planners, florists, entertainment, dining, and numerous other businesses are available to make your wedding dreams come true. Check out our vendor list for some of our favorite wedding professionals that can assist you with creating the perfect celebration at The Treasury on the Plaza, or our sister property, The Lightner Museum.

Photo credit: Asaad Images
Interesting venues you won't find anywhere else ensure events held here are truly memorable. The European influence and intricate detailing of St. Augustine's historic buildings evoke a sense of timelessness. If you are looking for the perfect venue in the midst of history and culture, with all of the modern sophistication and conveniences you would want to host an incredible celebration, look no further than The Treasury on the Plaza or Lightner Museum! Contact our team today to learn more about how we can assist you with your upcoming wedding.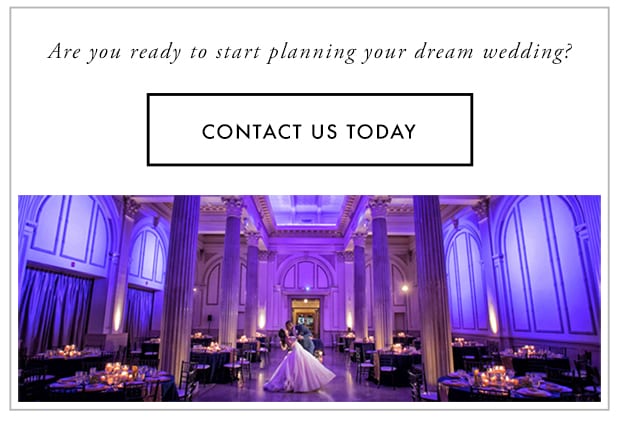 A version of this article was first published on Florida's Historic Coast blog.