Stacy & Michael's Treasury on The Plaza Wedding Ceremony and Reception
---
Who loves a couple who isn't afraid to show their fun-loving, goofy personalities on their wedding day? We do! Stacy and Michael's wedding ceremony and reception at The Treasury on The Plaza was full of funny faces, hilarious speeches, incredible dance moves…oh, and one amazing wedding cake face smash! Stout Photography was there to capture all of the laughter, love, and even a few tears.
Stacy and Michael chose to do a first look in front of the beautiful bay window on the balcony of The Treasury's Grande Foyer. By doing a first look, the couple and their wedding party had plenty of time prior to the wedding ceremony to take some amazing photos.
Who says you need to wait until the wedding reception to get the dance party started?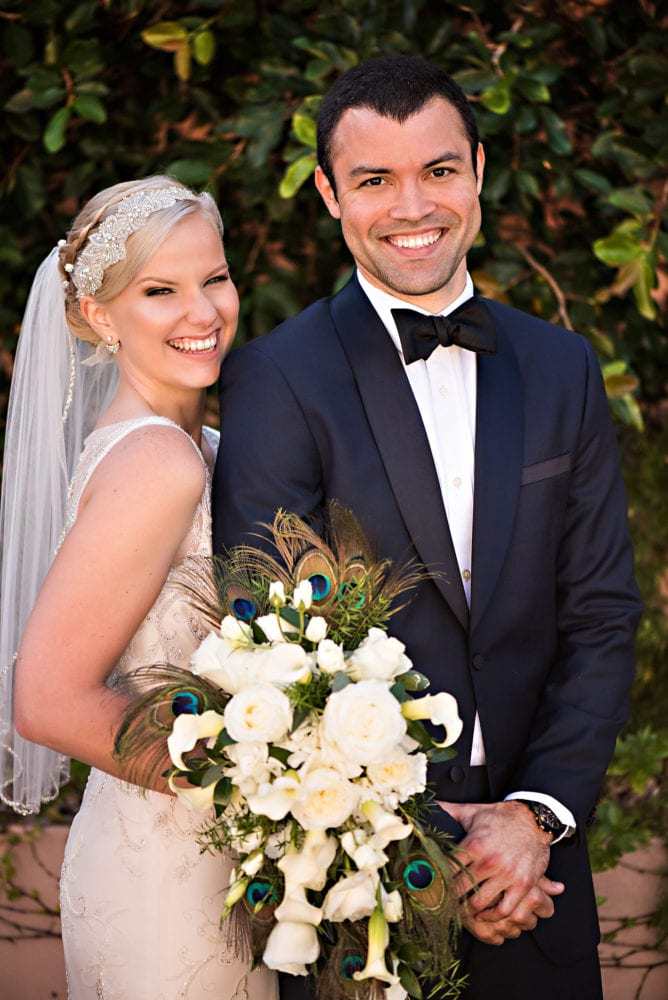 Stacy's wedding day look was vintage perfection! Her beautiful cascading bouquet by Jade Violet Wedding & Event Floral Boutique was modeled after the bouquet her great-grandmother carried on her wedding day in 1925.
The best man gave a hilarious speech that had everyone, including our Treasury staff, rolling in the aisles.
The bride and groom surprised their wedding guests with an aerialist performance during the wedding reception! The only people in on the secret were the bride, groom, and their wedding vendors.
Michael and his mom stole the show during their mother-son dance. They started out the dance playing air guitar to AC/DC's "Thunderstruck," then transitioned into "You've Got a Friend" by James Taylor.
Can you believe that the Mother-of-the-Groom made Stacy and Michael's beautiful Art Deco-inspired cake? Stacy had a lot of fun shoving a fist full in Michael's face!
Guests enthusiastically danced the night away to a diverse mixture of throwbacks and modern music played by Feedback Entertainment. No one wanted to leave the floor at the end of the evening, shouting "One more song! One more song!" until the DJ gave in.
Thank you Stacy and Michael for all of the joy and laughter that you brought to The Treasury on The Plaza during your wedding ceremony and reception. They say that laughter is the key to a happy marriage…With the way you two have fun, you must have many many happy years to come!
Vendors:
Wedding Planner: Dawn with The Wedding Authority
Caterer: Purple Olive
Florist: Jade Violet Wedding and Event Floral Boutique
Wedding cake: Sweet Creations By Rose
Photographer: Stout Photography
Videographer: Vollmer Visuals
Visit us
24 Cathedral Place
Suite 111
St. Augustine, FL 32084