A New Year's Eve Wedding in St. Augustine | Kristen + Tyler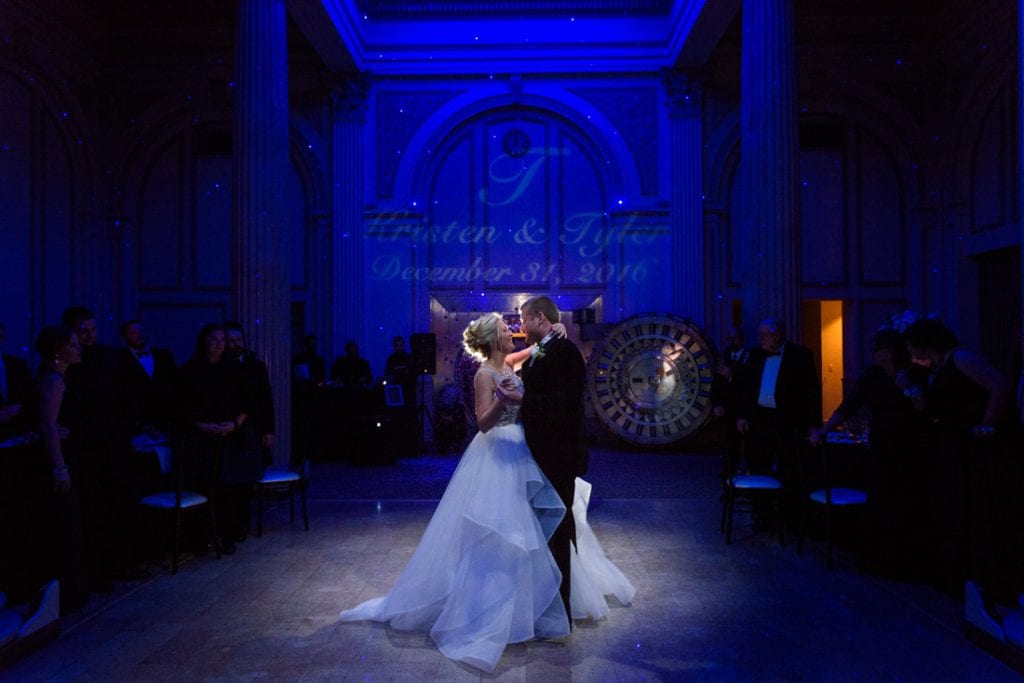 ---
Ah, New Year's Eve. It's a day that brings to mind new beginnings, hope for the future, glitz, glamor, and lots of champagne. Those also just so happen to be the perfect ingredients for a fabulous wedding celebration! At The Treasury on The Plaza, we couldn't have had more fun ringing in 2017 than at Kristen and Tyler's New Year's Eve wedding ceremony and reception!
10…9…8…7…Get the bubbly ready and put on your party hats! We're sharing all of the photos captured by Rob Futrell Photography of this amazing New Year's Eve wedding.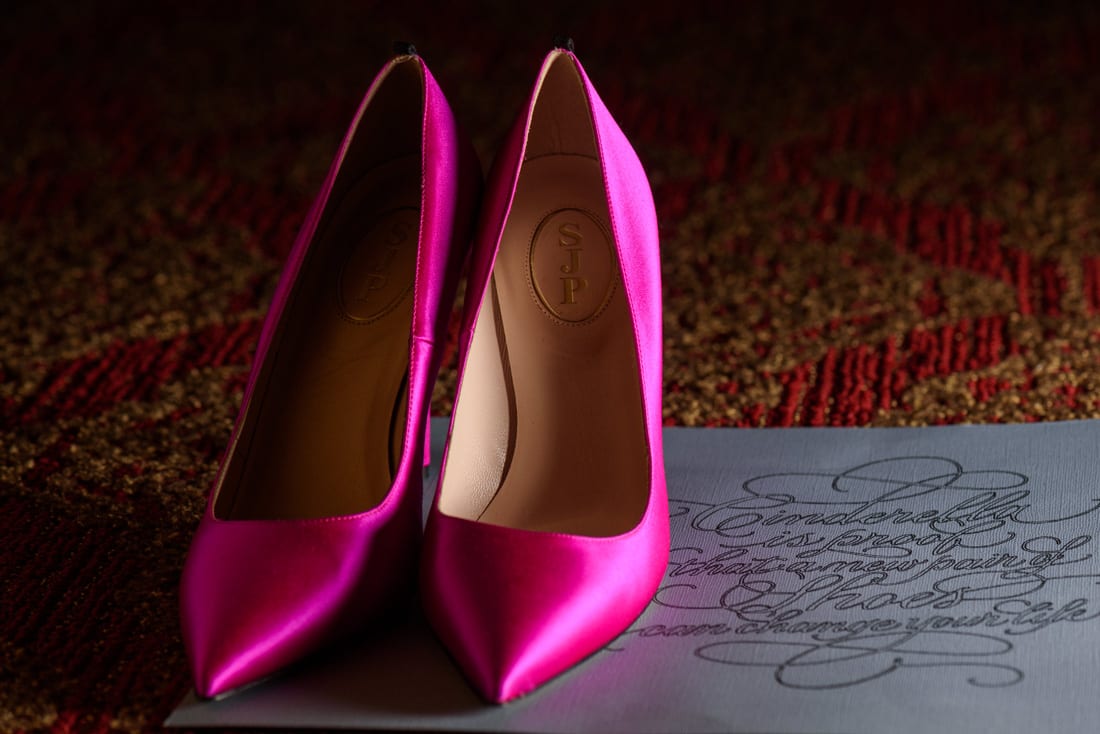 We loved their wedding Snapchat filter!
From the bride…
1. How did you and Tyler meet? How did he propose?
Tyler and I met…at a bar…so, not your typical Disney fairytale beginning! We were introduced through a mutual friend who he works with, and happens to be married to one of my best girlfriends. We were officially introduced on the evening of our annual pub crawl and have been inseparable ever since. We both come from families deeply rooted here in St. Augustine but given the age difference, had never crossed paths previously. Ironically however, our grandparents went to high school together, and my dad fished with his uncle and golfed with his grandfather. It seemed everyone knew someone in each family, except for us!
Our future together was often discussed, but the actual proposal was a complete surprise! On a random evening we had drinks at the Tini Martini and enjoyed the local views and the Bayfront breeze that we are so blessed with (but too easily take for granted!) A quick stroll on the Bayfront before heading home landed us near the Bridge of Lions and in a discussion about an upcoming cross-country move. Tyler has never lived outside of St. Augustine, so a job opportunity taking me/us to Arizona was a big step to ask of him. Fortunately, he was beyond ready and excited to make this leap with me. Our discussion smoothly transitioned into Tyler getting down on one knee and popping the question. It was so genuine, sweet, uncomplicated, and I truly couldn't imagine a more perfect way to say YES than in the place we love and call home.
2. What was your vision for your big day? Where did you find inspiration for your New Year's Eve wedding?
The vision for our big day evolved as we planned. I am pretty girly, and a lover of all things pink and sparkly! However, I'm not the type of girl who planned or dreamt about her wedding since I was six-years-old. The one thing I did know (even before Tyler proposed) is that I wouldn't settle for anything other than The Treasury as our venue! It is the first thing we booked–a year and a half in advance!
When it came time to choose a date there was no specific date that was significant to either of us. When we looked at the calendar I randomly realized that New Year's Eve would fall on a Saturday the following year. If there is one thing we know about our friends and family, it is that they like to have a good time! So, the second thing we knew about planning our wedding was that we wanted to make it a party.
NYE + our wedding = party!!
What better way to ring in 2017 than with our closest friends and family for a New Year's Eve wedding?!?! We also figured it would make an excellent excuse for everyone to get dressed up in their finest threads to enjoy an evening of phenomenal food courtesy of the folks at Chef's Garden, liberating spirits from the Vault bar, and dance into the new year with sounds from our favorite DJ, Hugh.
Inspiration for our New Year's Eve wedding was literally a breeze because of the holiday (and because we had the most stunning wedding venue in St. Augustine!) It definitely didn't hurt that I would spend countless hours on Etsy searching and shopping for all of the small, final touch details (like the clock table numbers) to add here, there, and everywhere. Given the already gorgeous, classic, and elegant venue, decorations were quickly eliminated from our to-do list and we entrusted the floral artistry of Nulita and her team at Jade Violet with making my floral dreams come true (and boy did they surpass them!) Custom signage was sprinkled throughout thanks to my sweet friend Janee' with Old City Calligraphy and our planner (plus wedding band hunter extraordinaire), Dawn (from the Wedding Authority) made the entire process and day of events seamless. If there was ever a question or we needed an opinion she was quick to come to our rescue and always keep us at ease.
3. What was your favorite moment from your wedding day?
It would be truly IMPOSSIBLE for us to choose a single moment from our New Year's Eve wedding as our favorite. There were simply too many perfectly fantastic things happening at all times and we are eternally lucky these will forever be remembered and relived thanks to our sweet friends and talented photographers, Rob and Jill Futrell. Their honesty and gracious ways, evident during a small hiccup, proved that the random fate of finding them was truly meant to be. Not to mention sealing our friendship in stone and always having a story to look back and laugh about. It's funny how our mothers are always right and as mine always says, everything happens for a reason.
4. Do you have any advice for future brides and grooms?
– First, is to realize and accept the fact that you will not be able to please everyone. Therefore, our second tidbit of advice is to do what makes you and your other half happy. Choose and do what YOU want and like. This day is all about and for YOU, so forget about everyone else. That might sound selfish but if your family and friends respect you, they will also respect your choices because it's what makes you happy. If you want to have a vegan, vegetarian, or meat-only menu, do it! If you want to wear a black wedding dress, pant suit, or bathing suit, go for it! If you want to have a circus theme with monkeys, acrobats, and clowns, by all means, do it! As long as you are doing what makes you happy, the day will be everything you imagine and more.
– Invite the people you want to be present and celebrate with on your day and don't worry about all the others who you are not able to invite. Chances are you can't invite literally everyone anyway and someone is bound to be/feel left out.
– Don't let the saying, "Something will go wrong; be prepared," affect you. Quite frankly, don't listen to anyone who says it! It's negative. Keep a positive outlook and if there's a hiccup in the day, it won't be a big deal. Brush it off and move on. It's possible to have the most perfect wedding day/night of your dreams. We lived through it! Life doesn't stop on your wedding day, therefore things happen and will happen, there is nothing you can do to stop it. If it's meant to rain, all the rain dances in the world won't stop the rain, her name is mother nature and she's….well you know. People will show up who didn't RSVP or responded "no." People who you expected see may not make it. Go with the flow!
– In regards to vendors: When there's a person or set of people who you know and trust, utilize them and don't second guess yourself or them. Trust your gut and first impression. If you are meeting with new vendors, take additional time to get to know them, who they are, and what they stand for, not just what they do.
– Don't blink. It goes by fast (which everyone always says) and at some point, you'll want to slow it down or do it again. Before you know it the day/night will be over and there's no going back…unless of course, you have figured out the concept of time travel. If so, I'd like to borrow your machine. In all seriousness just breathe. Don't rush it. Enjoy the process of planning and every moment from "I will" to "I do." Just as with anything in life, your wedding is what you make of it. Enjoy all of the little things as much as the grand moments. Take a minute to step back, stop, and look around. This day is finally here and you don't want to miss a second. Escape the scene for a moment alone with your new husband/wife. Consider a first look (we are SO glad we decided to do one!) Consider a final private dance, and just be happy!
Tyler and I were incredibly blessed with each and every vendor we met and worked with from the Treasury staff and beyond. This blog post is dedicated to them! For those who were not mentioned previously, I have to take a moment to give credit to now because without them we would not have been able to have the most perfect day. Working with Sitou from Chic Booth (photo booth) was simplicity at it's finest. He was so easy to communicate with, kind, friendly, fun, and interactive to which our guests thoroughly enjoyed. Any event in our family worth celebrating over the past 20 years would be incomplete without a cake from Arlene and Paulo at Sweet Weddings Cake Designs. Our advice: chocolate fudge! (P.S. It's so good you don't even need to do a tasting!) Take advantage of the day (and days/weeks/months leading up to your wedding) to be treated like a princess. Get pampered and glamorized by Jill Stonier (professional makeup artist) and have your hair perfectly coiffed by Aimee Osorio (Happily Ever After Hair and Makeup). (Thank you Courtney!!!)
We are thankful beyond words for everyone involved in making our New Year's Eve wedding more than a dream and can't express it enough!
Vendors:
WEDDING CEREMONY & RECEPTION VENUE: The Treasury on the Plaza
WEDDING PLANNER: The Wedding Authority
PHOTOGRAPHER: Rob Futrell Photography
CATERER: Chef's Garden
FLORIST: Jade Violet Wedding & Event Floral
BAKERY: Sweet Weddings Cakes
PHOTOBOOTH: Chic Booth
MAKEUP: Jill Stonier
HAIR: Happily Ever After Hair & Makeup
DJ: Classic Blends
SIGNAGE: Old City Calligraphy
Visit us
24 Cathedral Place
Suite 111
St. Augustine, FL 32084