Pop the bubbly and light the sparklers, "Rossalita" brought the party to The Treasury on the Plaza for their New Year's Eve wedding! Merlita and Ross have a reputation for being great entertainers, so it was their dream to make their wedding a memorable affair for guests. With top entertainers and unique decór at every turn, these two had The Treasury on the Plaza dripping in glamour and luxury. Keep scrolling and see for yourself!
Even the tiniest details were considered for Merlita and Ross's big day. Check out these cute custom robes for the bride and her bridesmaids.
How They Met: Like many of our Treasury on the Plaza couples, Merlita and Ross met through work. With Ross in Minneapolis and Merlita in Jacksonville, they often spoke via conference calls, but didn't actually meet in person until Ross moved to Florida in 2012. Merlita shared, "The first time we met was at a dinner party at his house. I was invited by a mutual friend. Thereafter, we continued to run into each other at various Happy Hours until Ross came to his senses and asked me out."
Get him, girl! We are so glad Ross got it together ????— just look at where it brought them!
Most Memorable Moment: The First Look! "It was a memorable moment to see my handsome man and see the pure bliss in his eyes when he saw me. We both came to tears and I can honestly say that was one of my favorite moments. It was just me and him, which is really what a wedding is all about–the pure love and happiness between two people."
After the First Look, Merlita and Ross stepped outside to the Plaza de la Constitucion for group photos.
Planning Tip: Block off time for portraits with your wedding party before the wedding ceremony so you can either enjoy more party time with your guests during cocktail hour, or spend some private time together as husband and wife before the wedding reception.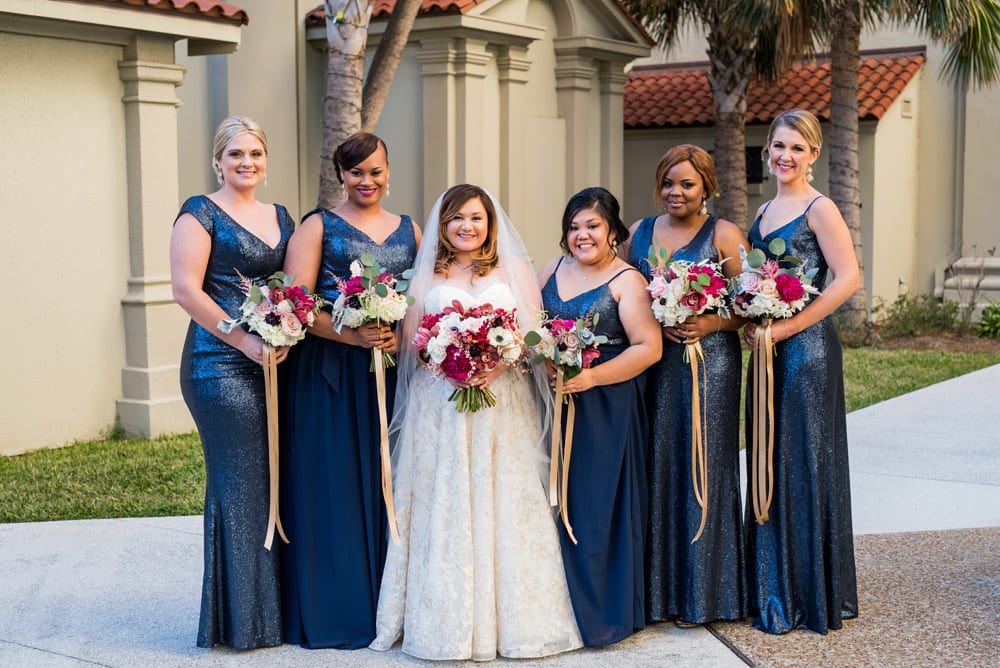 The classic elegance of the wedding ceremony decor inside The Treasury on the Plaza's Grande Ballroom was a sight to behold. We love the layered the pipe and drape ceremony backdrop from Mugwump Productions. Our favorite part? Merlita helped design this luxe drapery focal point!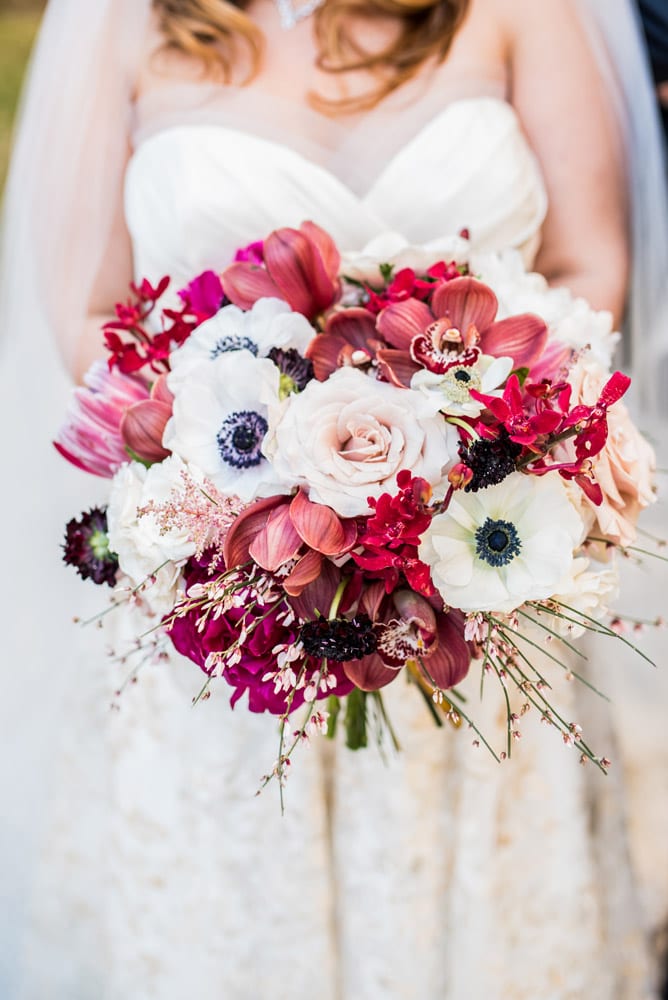 From the flowers to the string quartet, the ceremony set an enchanting tone.
After they were declared man and wife, Merlita and Ross headed back outside to take advantage of the bewitching backdrop created by St. Augustine's Nights of Lights celebration. Can you say romance?!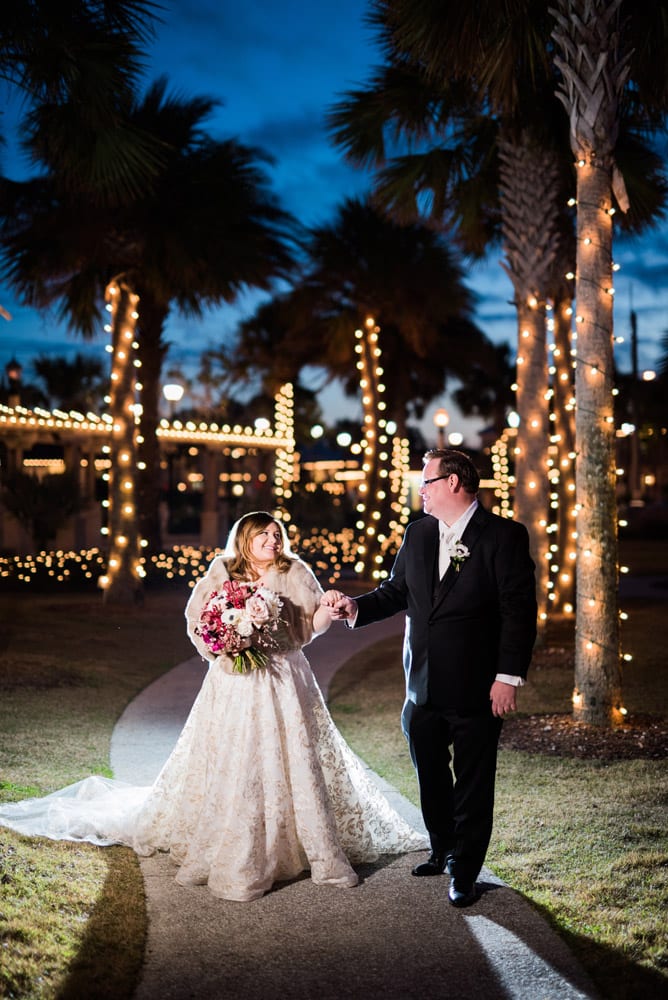 Meanwhile, their guests were inside becoming acquainted with the flawless details and decor laid out for the wedding reception. They also had the opportunity to offer advice to the newlyweds.
With their attention to detail and eye for design, these two party animals are certainly meant to be. Merlita was very hands-on when planning with Tula Rose Floral and Event Design and Creme de la Cocoa to create the perfect design for the floral arrangements and wedding cake. Ross gets some major credit for selecting the ultimate wedding date–New Year's Eve! This showstopper was destined to be an affair to remember.
There was so much fun to be had during the wedding reception–dancers, donuts, and desserts galore! Wedding planner Brittany Jones with Uncorked Occasions made sure that every moment of this New Year's Eve wedding ran like clockwork so that there was always something new and exciting for guests to experience.
Guests were ready to dance the night away. Merlita, Ross, and all their party people got to ring in the New Year in full-on luxury!
After their New Year's kiss (c'mon, could they be any cuter?!) it was time for a private last dance to cap off their unforgettable day.
Merlita's Words of Wisdom: "Remember what the celebration is really about. You can easily get lost in the planning process and become frustrated when things do not go your way. (Spoiler – there will be some sort of thing that goes wrong the day of or leading up to your wedding!) Remember that this is a celebration of your love for each other. While you want everyone to have a great time and everything to be absolutely perfect, make sure to embrace the one you love. Sneak away for special moments between you two and take it all in. It's too easy to get swept away. It's one night, and goes by so very fast. Enjoy you! Memorialize it in your minds and hearts."
Ross's Recommendation: "Unless you are really good with finances and budgeting, add a 20% buffer to your budget! We went slightly over budget."
"I'd suggest partaking in the first look, and having a private last dance. The last dance was the perfect way to end the night. You get to have this grand venue all to yourself one last time with the one you love. Take it all in. Also, definitely get a day-of event coordinator. They are lifesavers and pros. They know what to do. Trust in them!"
Congratulations to you, Rossalita! Thank you for celebrating your New Year's Eve wedding with us.
Vendors:
Planner: Uncorked Occasions
Caterer: Chef's Garden
Florist: Tula Rose Floral and Events
Ceremony Pipe and Drape: Mugwump Productions
Bakery: Crème de la Cocoa
Photographer: Angelita Esparar Photography
Officiant: Brian Nihls
Ceremony Music: String Theory Music
Entertainment: DJ Jacob Towe
Photo Booth: Chic Booth