When it came time for Alex to plan her dream wedding to her fiancé, Michael, she already had a vision in mind for what her big day would look like. These two cuties were high school sweethearts, so she had plenty of time to imagine the perfect day! As Alex puts it, "I wanted something very elegant and classy, like a Cinderella wedding!" With plenty of gold, cream, and white details, we think she pulled this look off flawlessly.
Wedding planner Michelle Guthrie of Coastal Celebrations helped Alex and Michael to make their Cinderella vision come to life at The Treasury on the Plaza. With the help of florist Rachael Kasie, The Grande Ballroom transformed into an effortlessly elegant, classic dreamscape, with delicate florals and candles throughout. Wiler Weddings was there to capture all of the beautiful moments through photography and videography.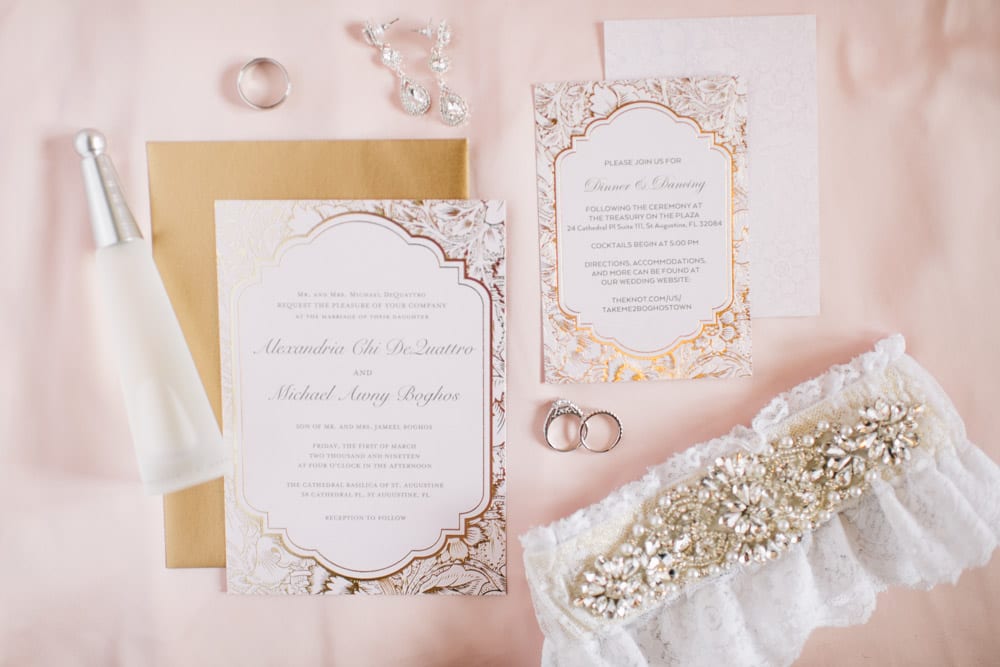 How sweet is this customized pillow made from Alex's grandpa's shirt? We love this unique idea for a wedding keepsake!
Alex and Michael tied the knot at The Cathedral Basilica of St. Augustine, which is located right next door to The Treasury on the Plaza. One of Alex's favorite memories from her wedding day happened during the wedding ceremony. "When the doors opened at The Cathedral I was with my Dad and saw Michael for the first time standing at the altar. It was like we were the only two people in the room." Michael's reaction to seeing Alex for the first time on their wedding day was absolutely priceless!
Michael went all out when he asked Alex to be his bride. "The proposal was an all-day event! I had just finished my second semester of nursing school and to "celebrate" he was taking me out for the day, little did I know we would be celebrating our engagement at the end of the night! We started our day going out to breakfast and then going shopping! Then we went home to change for dinner. On the way to dinner, I noticed that we were in an area I've never been to before. I had no clue where we were…up until the moment I saw Mickey Mouse! We had entered a back entrance to Disney! (I'm a Disney fanatic!) We pulled up to the Four Seasons hotel and went to the top floor for dinner. At 9 pm if you stand on the balcony of the restaurant you can see Disney's fireworks. That being said, we walked out to watch the fireworks and that is when he popped the question!!"
Like many brides, Alex took inspiration from Pinterest when creating her modern take on a Cinderella wedding reception. All of the details were understated, yet beautiful, with soft pastel tones and glimmers of gold. Table centerpieces consisted of classic white hydrangeas and light pink roses, accented by tall thin candle holders. We absolutely loved their sweetheart table, which featured a fun frilly pink linen and stylish tufted love seat.
Check out that cake by Sweet Weddings Cake Designs! The texture on the linens matched the design perfectly, and the touches of gold paired perfectly with the rest of the reception decorations. There was even a fun surprise hidden on the cake for Michael! (Keep scrolling to see this fun little detail!)
What is a Cinderella story without a grand entrance? Alex and Michael entered their wedding through The Vault, our showstopper bar, located within The Grande Ballroom at The Treasury on the Plaza. We love when couples can make a surprise introduction to their guests on their special day.
How cute is this little Spiderman detail that Sweet Weddings added to Alex and Michael's wedding cake?! We love this little surprise for the groom.
Have you ever seen a bridesmaid more excited to catch a bouquet? We love that Alex's girls didn't hold back on this fun wedding tradition!
When the evening came to a close, the bride and groom shared one final last dance together under the Starry Night Lights in The Grande Ballroom while guests were ushered outside to send them off with a sparkler exit.
Alex shared some sage advice for future brides and grooms: "The best advice we were given for our wedding day was to enjoy every moment because it flies by quickly. Try not to let go of each other's hands because you will get separated and miss spending every moment together." So true! Congratulations to the beautiful couple, and thank you for choosing The Treasury on the Plaza to be a part of this magical day!
Wedding Vendors for Alex + Michael | High School Sweethearts Tie the Knot at The Treasury on the Plaza
Wedding Ceremony Venue: Cathedral Basilica of St. Augustine
Wedding Reception Venue: Treasury on the Plaza
Wedding Coordinator: Coastal Celebrations
Caterer: Anthony's Catering
Florist: Rachael Kasie Designs
Photography and Videography: Wiler Weddings
Cake and Desserts: Sweet Weddings Cake Designs
Photo Booth: SmileyFace Photobooth
Transportation: Golden Hinde Limo
Hair and Makeup: Moriah Brandon's Salon