You've found the perfect partner that you want to spend the rest of your life with. Way to go! Finding the love of your life is no small feat, but after you've made this important decision comes a somewhat daunting task–coming up with ideas for the perfect proposal. The day that you propose is one of the most important and memorable days of your life, not to mention, with the advent of social media, your engagement story will probably be shared hundreds of times with all of your closest friends and family. But no pressure.
Step one in crafting the perfect marriage proposal is determining the ideal location for you to get down on one knee. With its beautiful historic buildings, charming streets, shops, restaurants, and beautiful beaches, St. Augustine is the perfect destination for popping the question. We're helping you get one step closer to a guaranteed "Yes!" by sharing our top 10 St. Augustine proposal ideas!

Photo by Jenna Alexander Photography
1. The Top of the St. Augustine Lighthouse
Do you want your love to feel like they are on the top of the world when you propose? Take them up to the top of the St. Augustine Lighthouse. You'll see majestic views of the surrounding beaches, Matanzas Bay, and historic downtown St. Augustine. It's the perfect spot to take your commitment to new heights…just be careful not to drop the ring!
Click here for more information on St. Augustine Lighthouse Tours.
2. City Hall Courtyard in front of the Lightner Museum
For those looking for a tranquil, private location to get down on one knee, the City Hall Courtyard is the perfect spot. The Courtyard features a charming stone bridge over a rippling Koi pond, surrounded by lush landscaping and swaying palm trees. During the wintertime, the courtyard is even lit up with twinkling lights as a part of the Nights of Lights celebration.
Click here to visit the City of St. Augustine website.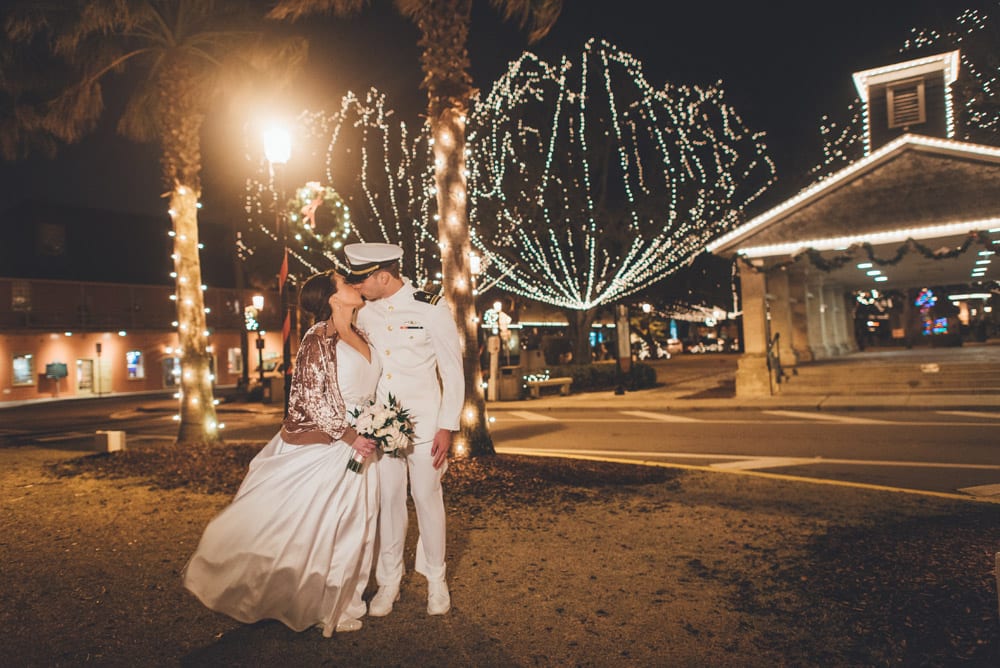 3. The Plaza de la Constitución during Nights of Lights
St. Augustine is truly magical during the months of November through January when the city lights up for the annual Nights of Lights celebration. For those looking to share their love and commitment in front of a large crowd, consider proposing during the lighting ceremony in the Plaza de la Constitución, which typically takes place on Saturday before Thanksgiving. Just make sure to get there early to pick out the perfect spot!
Click here for more information on Nights of Lights in St. Augustine.

Photo by Josh Haltam Photography
4. St. Augustine Beach Proposal at Sunset
If you're looking for a St. Augustine proposal idea that will provide picturesque photo opportunities, look no further than St. Augustine Beach. TripAdvisor recently rated St. Augustine Beach as one of its Top 25 Beaches in the U.S., and it's easy to see why. The sparkling white sands extend for miles, and you can even drive out on the beach in certain locations. We recommend packing a picnic to enjoy the beautiful colors of the sunset over the water.

Photo by David Walters Photography
5. A Romantic Carriage Ride Around Historic Downtown
It's hard to think of a more classically romantic St. Augustine proposal idea than a horse-drawn carriage ride. You'll be able to sit back, relax, and learn about the history of the nation's oldest city. Then, when the time is right, the driver can take you to the perfect proposal location. Afterward, you can stroll hand-in-hand through the streets, or stop off at one of St. Augustine's award winning restaurants.

Photo via Schooner Freedom Charters
6. Sailboat Ride on the Matanzas Bay
The Schooner Freedom offers a Romantic Sunset Sail with beautiful views out over the Matanzas Bay. You can sip on cold beverages and cuddle with your sweetheart as you watch the sun go down over the St. Augustine skyline. After your proposal, you can literally sail off into the sunset together!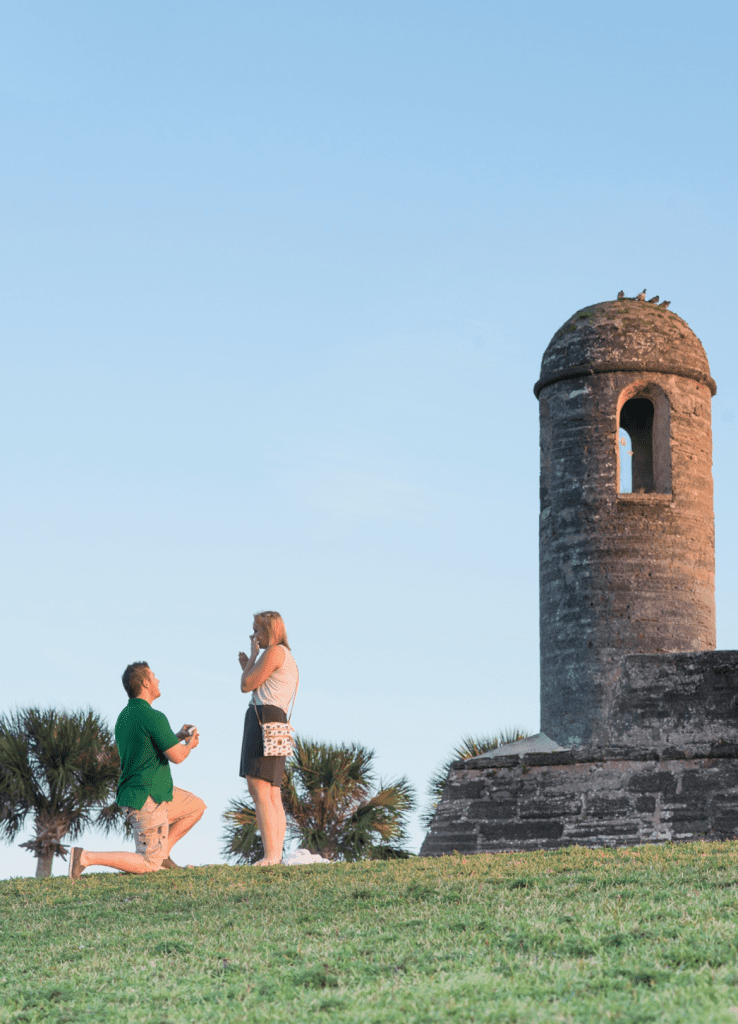 7. The Castillo de San Marcos
St. Augustine is known for its rich culture and history, and there are few places more unique and historic than the fort! The Castillo de San Marcos has stood on the banks of the Matanzas River since the 1600's, and is one of the most recognized landmarks in St. Augustine. Its location on the Bayfront is also ideal for pictures with the famous Bridge of Lions in the background.

Photo by Victoria Angela Photography
8. Under One of St. Augustine's "Love Trees"
What is a "love tree" you ask? A love tree is where two separate species of trees grow in, on, or through one another. Local legend states that when two lovers kiss beneath one of these rare trees, that their love will be sealed for eternity. There are several love trees throughout St. Augustine, including one on the corner of Cordova Street and Orange Street.
9. Propose at One of St. Augustine's Fabulous Restaurants
There are so many culinary delights to discover in St. Augustine! A few of our favorite downtown locations that are perfect for a romantic dinner proposal are the courtyard at Harry's restaurant, Preserved (a historic home-turned restaurant in historic Lincolnville), and Collage.
If you're looking for dinner with a fabulous view, there are also a few great waterfront restaurants that are outside of the downtown area. St. Augustine Fish Camp and Culinary Outfitters are newer favorites among the locals, and the deck at Cap's on the Water is famous for its fabulous sunset views.

Let's face it; some couples have their entire wedding day planned well before they get engaged. If you are thinking about hosting your wedding at one of St. Augustine's beautiful wedding venues, consider popping the question in the same location where you want to say "I do!" We recently had our first proposal at The Treasury on the Plaza. Daniel surprised his fiance Tayla by getting down on one knee during a venue tour. We can't wait for their upcoming wedding!
Are you recently engaged? We'd love to hear your engagement story! DM us on Facebook or Instagram, use the hashtag #staugustineproposal and tag us in your post using @treasuryontheplaza. We'll be sharing our favorite proposals with all of our followers!