Social media has become such an undeniably ubiquitous part of our lives that it's hard to imagine a time when we didn't have Facebook, Instagram, or TikTok to document and share our experiences.
From wedding hashtags to TikTok videos, it's no surprise that couples are constantly finding new, unique ways to incorporate social media during the most important day of their lives: their wedding day!
We're sharing some of our favorite ways you can incorporate social media during your celebration at your favorite wedding venue, The Treasury on the Plaza.
1. Create a Wedding Hashtag
Having a memorable hashtag isn't just another trend. In this day and age, it's an easy way to filter photos and videos of your event that friends, family, and loved ones shared on their own social media.
How do you pick the perfect hashtag?
Don't overthink the process of creating the perfect wedding hashtag. The key is to pick something simple and memorable. You can get inspiration from your names, wedding date, nicknames, theme, wedding location, or venue.
There are many fantastic (and free!) wedding hashtag generators available to help you come up with the perfect hashtag for your big day. One of our favorites is from WeddingWire. Simply put in your wedding information, and, voilà! Tons of hashtag options are created for you to choose from!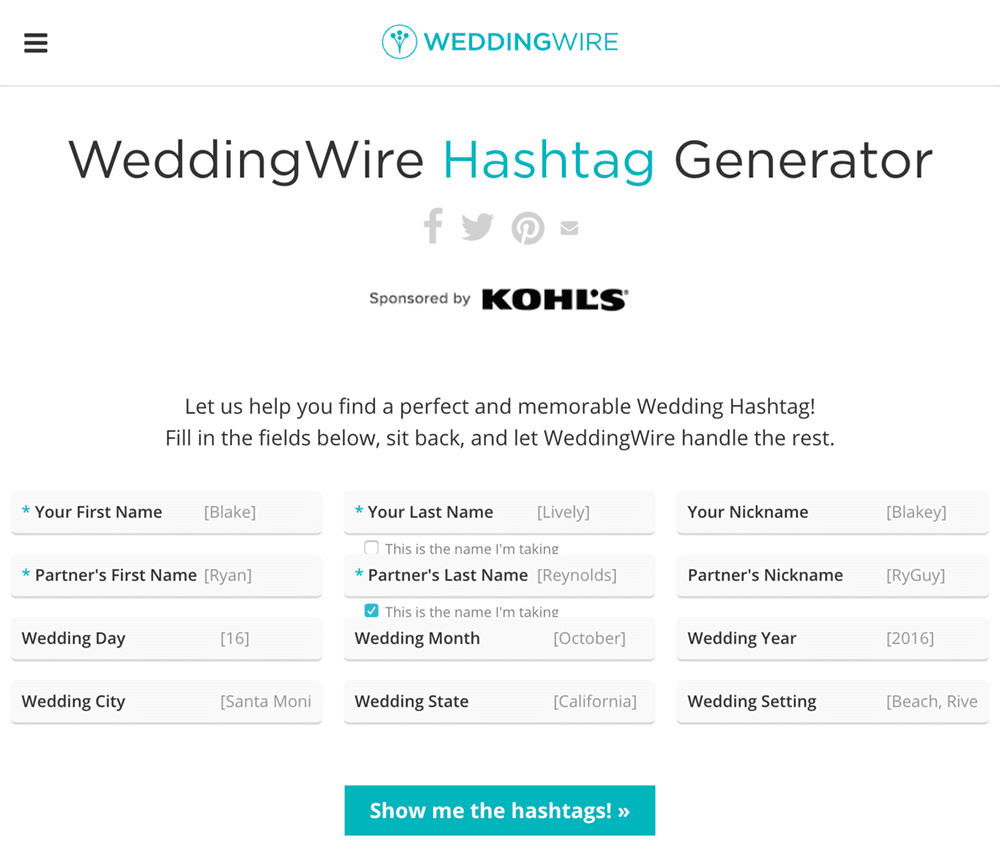 How do you make sure that guests use your wedding hashtag?
Include your wedding hashtag on your Save-The-Dates and wedding website so that guests are familiar with it prior to the wedding day. Make sure that your bridesmaids and groomsmen know about the hashtag and use it during pre-wedding events, such as your shower, bachelor and bachelorette parties, and rehearsal dinner.
On your wedding day, there are a ton of creative ways to remind guests to use your wedding hashtags.
Wedding programs and signage at the entrance to your wedding ceremony are a great way to share your hashtag at the very beginning of the event. You can also use this opportunity to politely tell guests how and when you would like photos shared (see number 3, below).
During the reception, you can include the hashtag on table cards, your menu, on prop signs at your photo booth, or at the bar. You can even include your wedding hashtag on your favors so guests can remember to add or view photos long after the evening ends.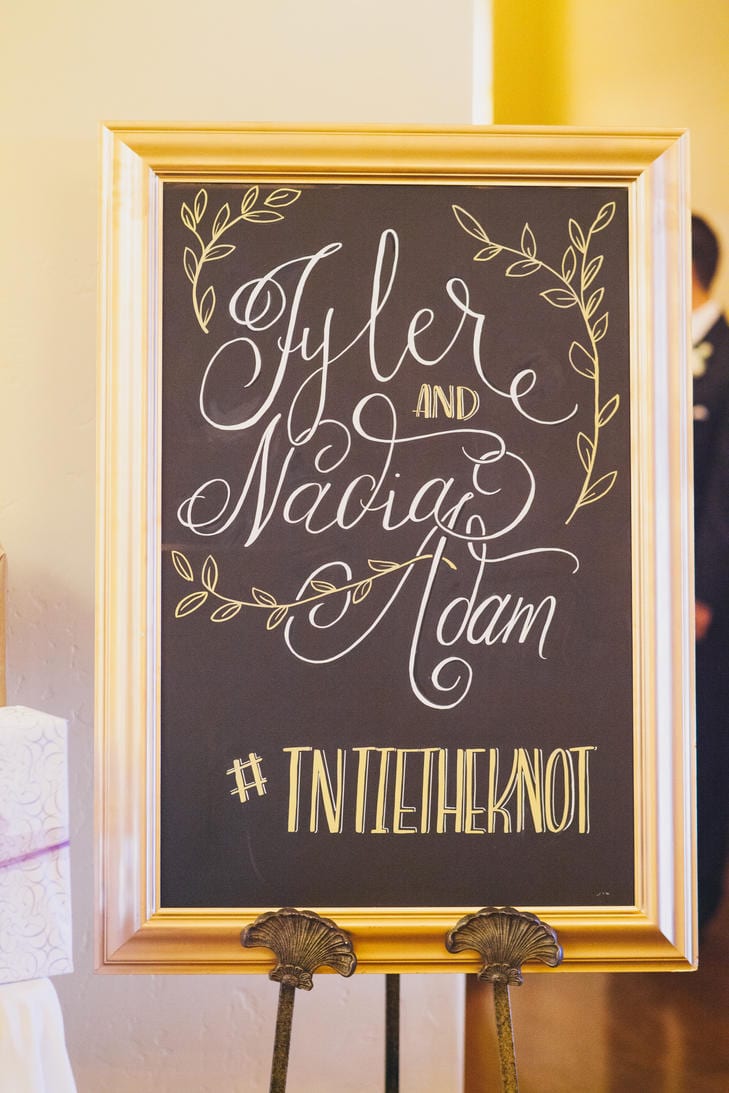 2. Document The Day With TikTok or Instagram Reels
You're probably already using TikTok to help you plan your wedding, so keep it going by planning some fun TikTok or Instagram Reels videos on your wedding day!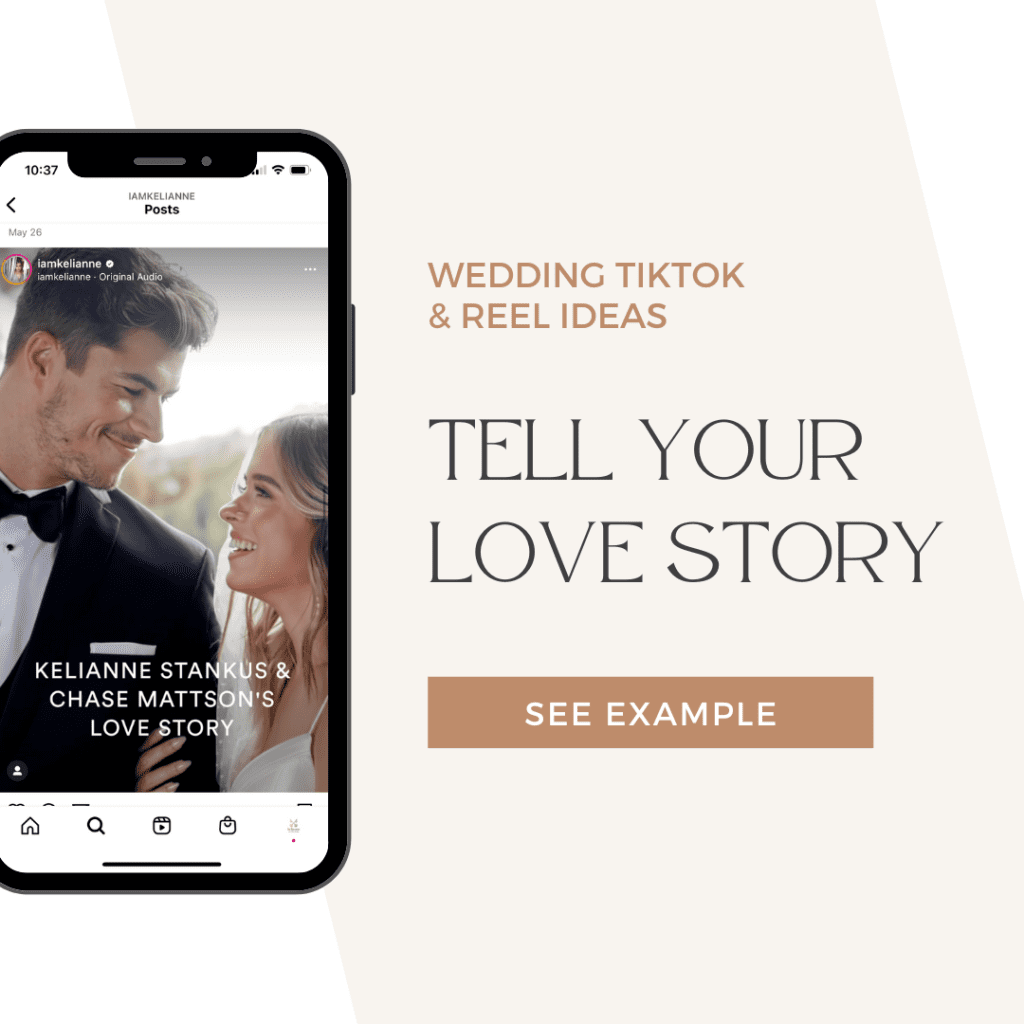 Tell Your Love Story
There are literally hundreds of video ideas and audio clips on Instagram and TikTok that can help the two of you tell your love story as a lead-in to the big day!
Show a "Then and Now" photo set that shows the two of you when you first started dating and on your wedding day. Or, curate a collection of "Our Love Story" video clips and photos of your life together through the years.
Example 1: A compilation of relationship photos and videos with emotional music
Example 2: Then and now photos of the bride and groom when they first started dating and on their wedding day
Wedding Look Transformation
"Makeover" videos are huge on TikTok and Instagram! Hop on board the trend by filming a before and after video!
Use any one of the most popular sounds to show your transformation into your gown/suit, makeup, and hair. Get your wedding party in on the action, too!
Example 1: A fun video showing the bride's full wedding hair, makeup, and gown transformation
Example 2: A bride and bridesmaid transformation video with a super smooth transition
First Looks
Everyone loves a good first look!
Have a friend or family member capture a video of the moment you and your soon-to-be-spouse see each other for the first time.
First looks aren't just for the couple! You can do a first look with your closest family members or with your wedding party.
Example 1: A funny non-traditional first look with the groom and his groomsmen
Example 2: An emotional first look with dad
Example 3: A sweet bride and groom "first touch" video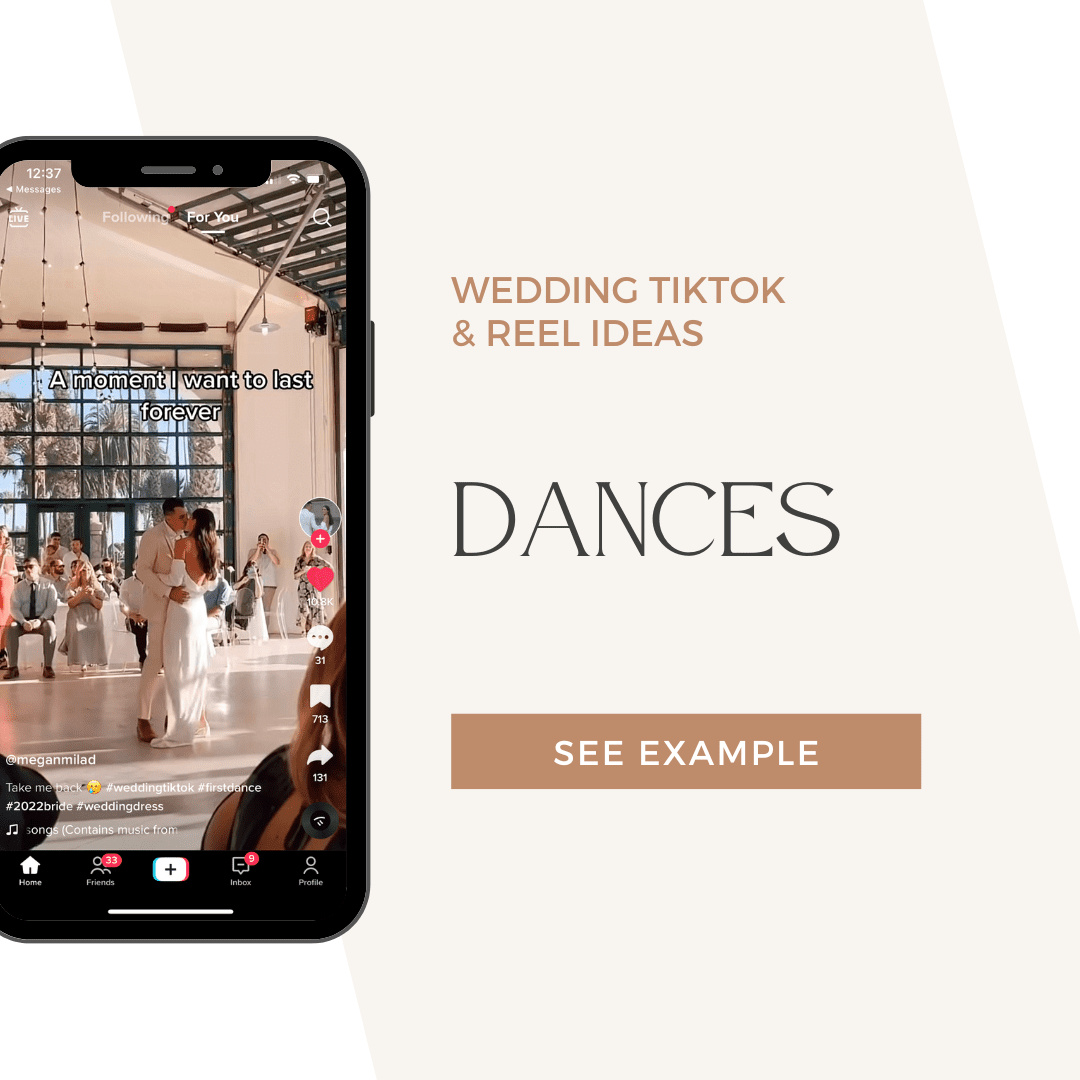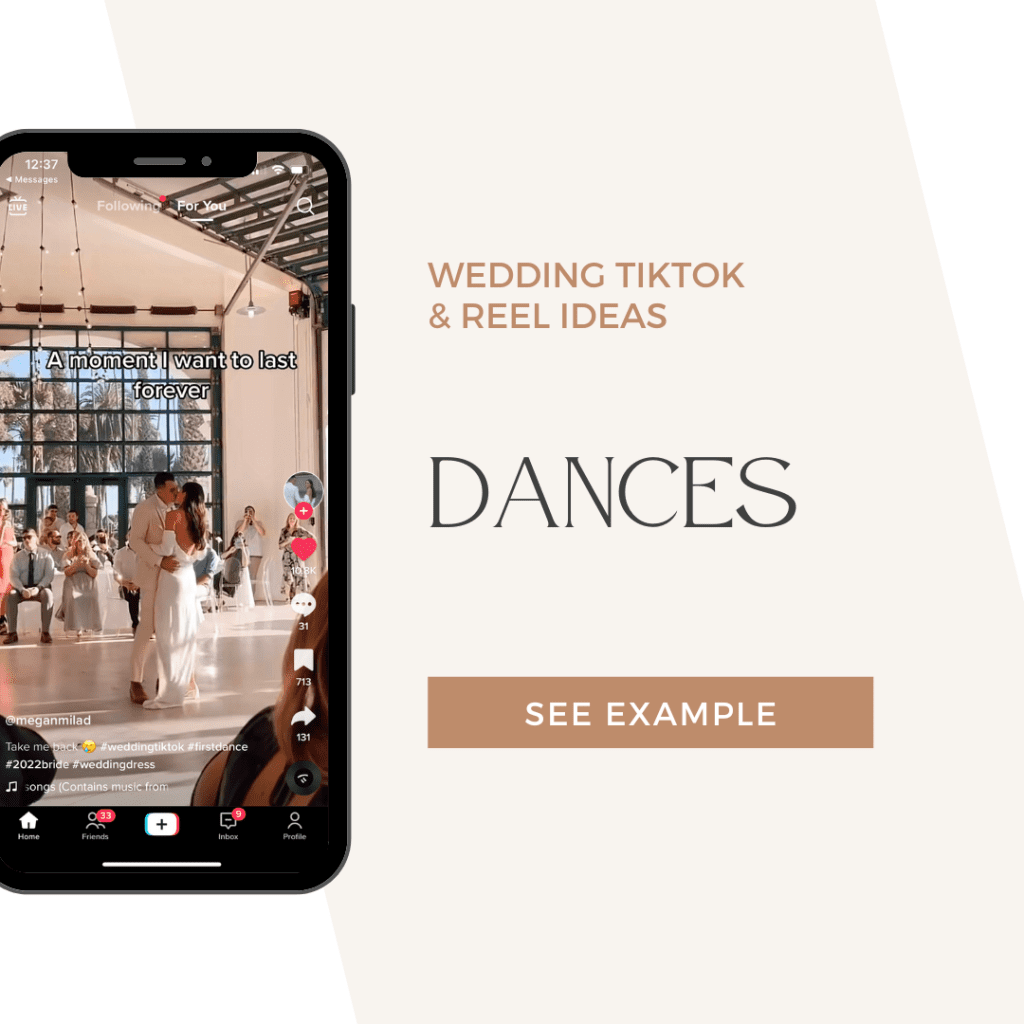 First Dance, Parent Dances & Dance Challenges
TikTok and Instagram have no shortage of dance videos. From sweet and slow dances, to fast and fun choreographed dances, you're sure to find many ways to show off your dance moves.
Try a dance challenge! If you and your wedding party feel up to it, brush up on your choreography and put on your dancing shoes.
Looking for a fun way to include your family members in on the fun? Incorporate choreography into your parent dances!
Bonus points if you and your spouse have an amazing number planned for your first dance.
Example 1: A fun and trendy choreographed dance during the wedding party entrance
Example 2: A simple and sweet bride and groom first dance video
Example 3: A super fun father/daughter dance
Example 4: An emotional first dance where a groom surprises his new husband with "Love Actually" signs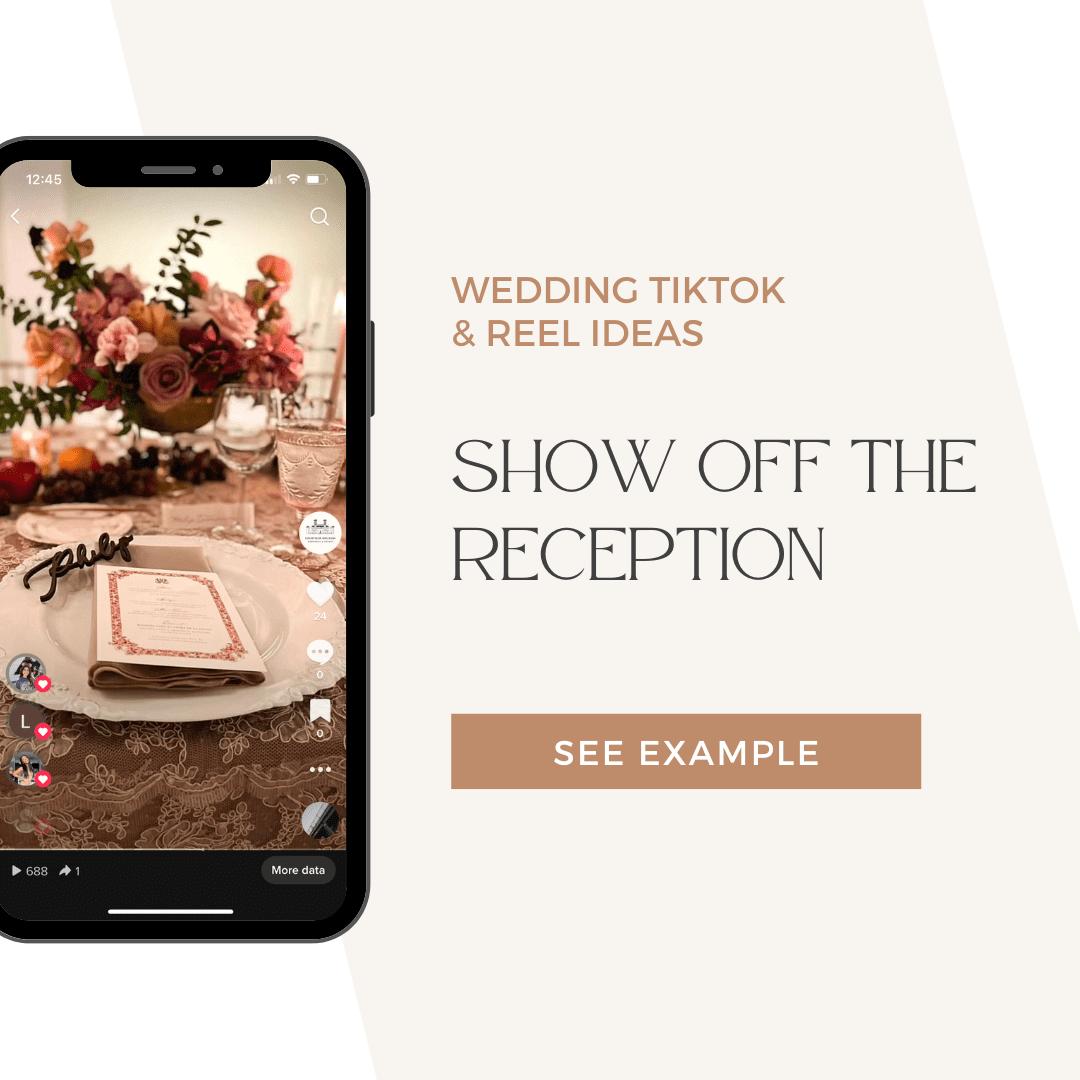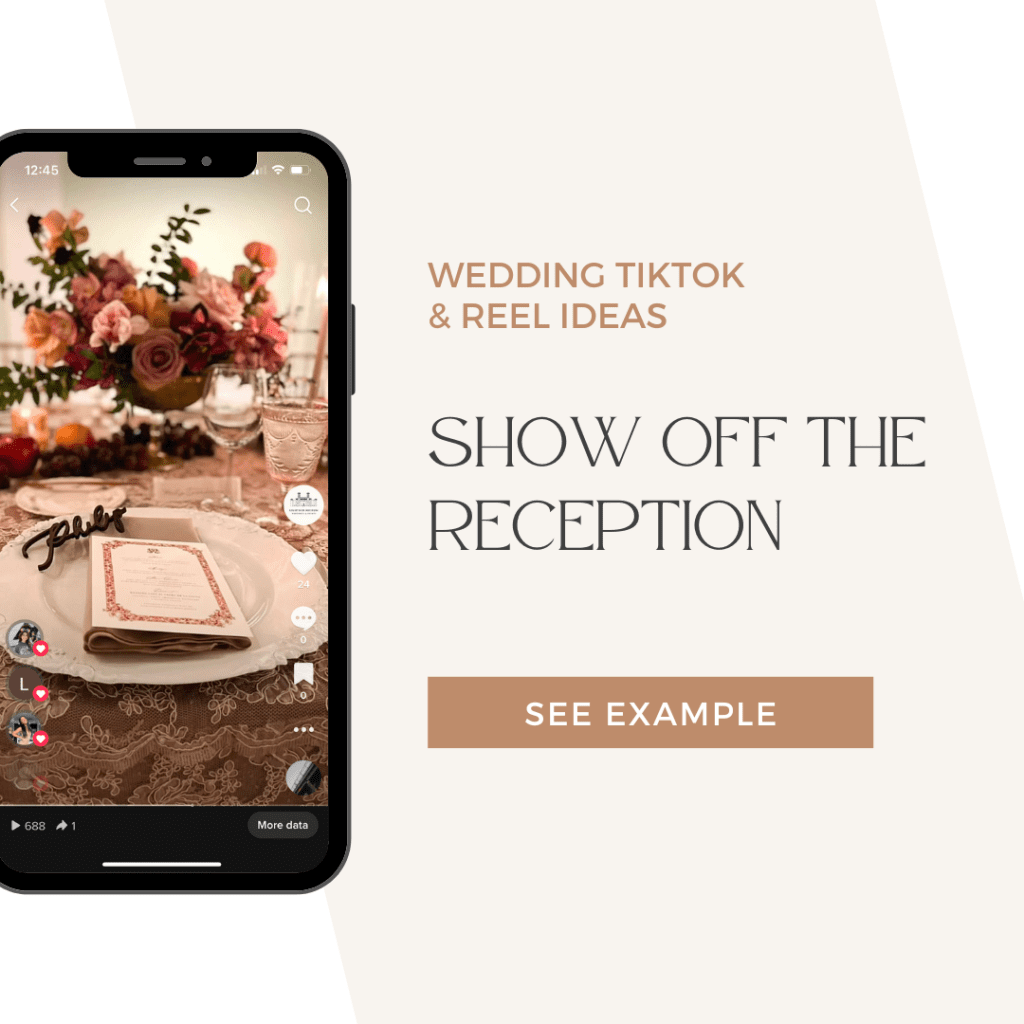 Show Off The Reception
Are there any amazing and/or unique features at your wedding reception? Show them off! Other couples who are planning their weddings may stumble across them looking for inspiration.
Are you doing a private room reveal before your guests enter your reception? Hand your phone off to someone to capture the moment you see your reception vision finally come to life!
Example 1: A beautiful reception décor compilation at our sister property, the Lightner Museum
Example 2: A private room reveal at The Treasury on the Plaza
Example 3: Another private room reveal at The Treasury on the Plaza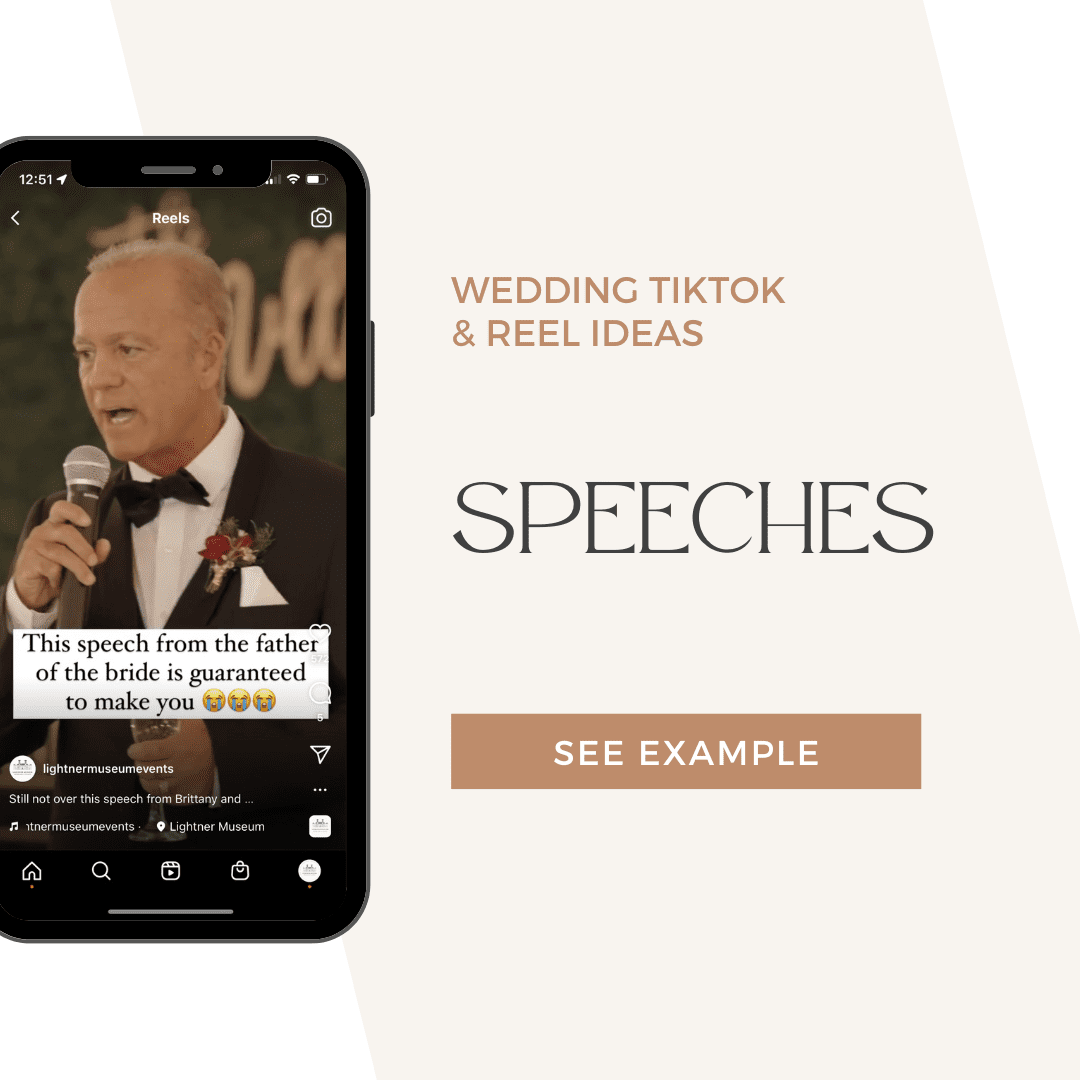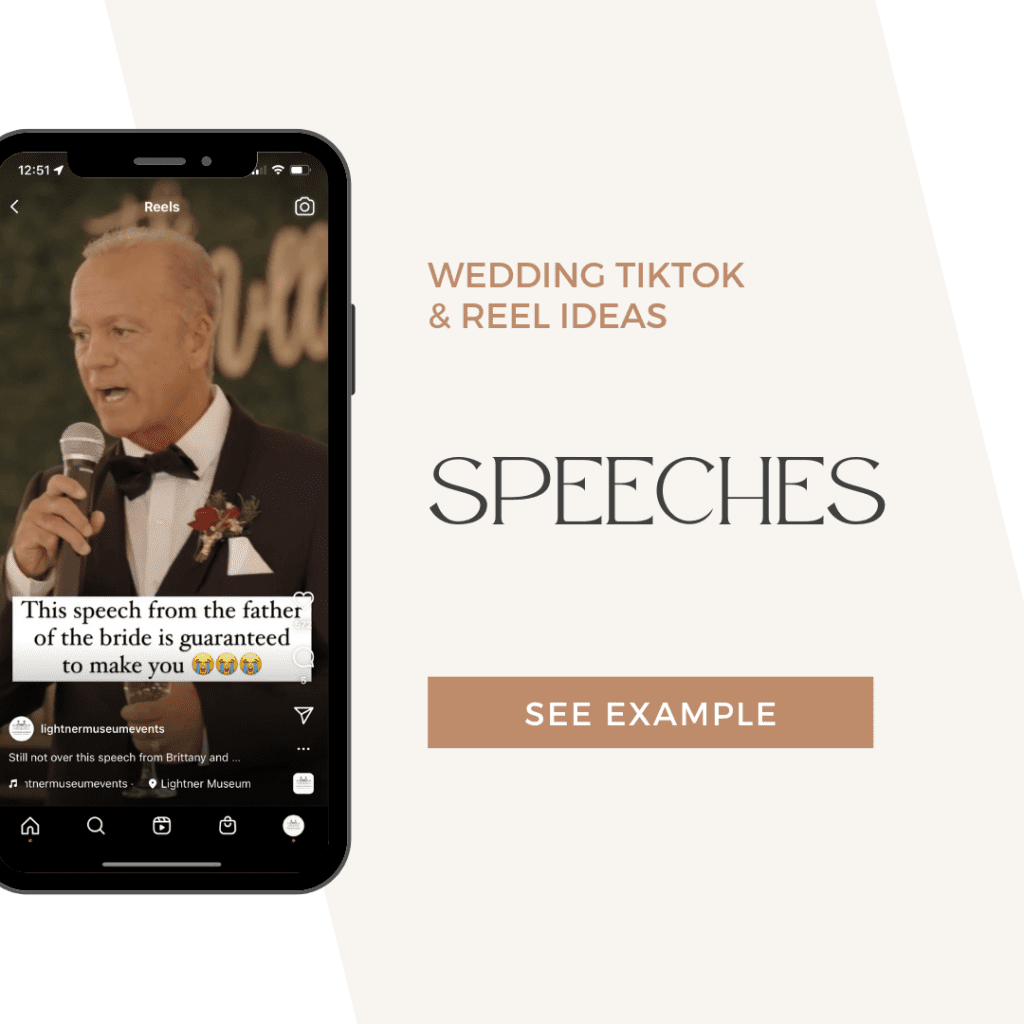 Wedding Speeches
Your wedding speeches are sure to be one of the most memorable moments of your wedding day. Whether they are sweet and sentimental or get the room roaring with laughter, videos of wedding speeches are always popular on TikTok and Reels!
Example 1: A funny Best Man speech at The Treasury on the Plaza
Example 2: A sweet Father-of-the-Bride speech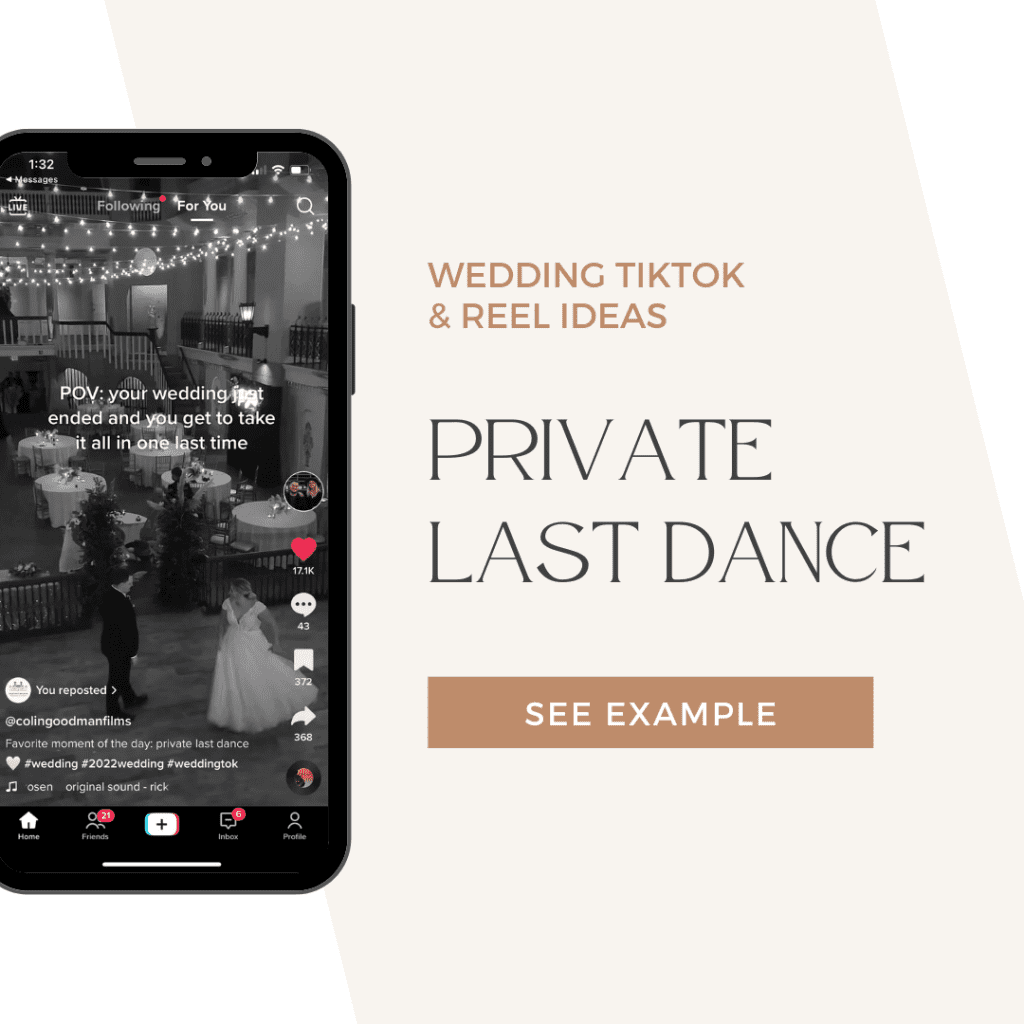 Private Last Dance
We always recommend that couples plan a private last dance at the end of the evening. This is the perfect way to close out the evening and reflect back on the best moments from the day.
Ask a friend or family member or your videographer to film this moment for posterity. We promise, you won't regret it!
Example 1: A private last dance at the Lightner Museum
Example 2: A compilation of photos and video from a private last dance
3. Politely tell your guests your expectations for using social media and tech
While having an interactive, social media-friendly wedding can be a lot of fun, it's not for every couple, and may not be appropriate for every moment of your wedding.
For the bride, it may sound obvious, but make sure to communicate to bridesmaids and other members of your glam squad not to post photos or videos of you in your gown before you walk down the aisle!
If you want your wedding ceremony to stay a special, intimate moment (that is, "unplugged"), you can politely convey this information on signs outside of the ceremony entrance, or with a small note in the ceremony programs.
For guests, if the couple does allow photos during the ceremony, it's important to keep a low profile and stay out of the way of the wedding photographer. Couples can mention that they will provide a link to the professional wedding photos for guests to view after the wedding ceremony.
4. Put all of those awesome photos to good use
Make sure to save all of those hashtagged photos after your wedding!
Once you have saved and collected all of those photos, you can use sites like Artifact Uprising and Social Print Studio to create prints, photo books, calendars, and many other keepsakes to enjoy for years to come.
5. Remember to be present and enjoy the moment
Your wedding day will pass faster than you can ever imagine, so it's important to know when to put your phone away and simply enjoy the moment.
If you know this might be difficult for you, and you have a close friend who is particularly social media savvy, talk to them about being your go-to person for posting to your favorite social media channels on your wedding day.
There are even services popping up where you can hire someone specifically to take care of social media and promotion on your wedding day!
6. Share your photos with The Treasury on the Plaza!
We absolutely love seeing and sharing all of our couples' photos and videos on social media. Make sure to tag us on Instagram (@treasuryontheplaza), TikTok (@treasuryontheplaza), and Facebook (Treasury on the Plaza) so we can enjoy them, too!
Our team of wedding experts is devoted to making sure you have the wedding day of your dreams. If you need advice or suggestions for incorporating (or minimizing!) technology at your event, let us know and we will be happy to assist you.