MEET OUR TEAM | WEDDING & EVENT MANAGER LINDSAY SARAH BROWN
---
She is sweet, she is genuine, and few things make her happier than a good slice of pizza! Meet our amazing Wedding & Event Manager, Lindsay Sarah Brown!
We are so lucky to have had Lindsay with us for two years now. Today she is sharing with us what made her fall in love with her role as a Wedding and Event Manager. Get to know Lindsay and what drove her passion for joining us here at The Treasury on the Plaza.
Click play on the video below to see Lindsay in action!
How did you end up in St. Augustine?
My parents are originally from Florida, but moved the family up to Minnesota when I was a baby. I ended up coming down here for school at Stetson University in Central Florida, where I studied communications, art, and marketing. After college, I lived in Jacksonville, and I was actually considering moving away from Florida. I came down to St. Augustine and told myself the only way I would stay would be if I got a job here. Luckily for me, it happened!

Tell us what made you want to pursue a career in weddings and events.
I always knew that I wanted to pursue a career path that allowed me to make a difference in people's lives. I quickly fell into the wedding industry. Very early on I realized that I had found something that captured many of my strengths, while also presenting me with the opportunity to bring so much happiness to others. It was everything I wanted out of my career!

Photo by Chloe Giancola Photography 
How would you describe your role at The Treasury?
I would say my title as Event Manager is pretty all-encompassing; I am given the opportunity to manage a couple's event from start to finish. Many people think that this only includes the day-of wedding routine. In actuality, this means managing the wedding every step of the way–from right after a couple chooses The Treasury as their wedding venue, to the big day itself. I work alongside the couples' chosen wedding planner to provide our couples with a source of knowledge and assistance that allows them to easily plan the wedding of their dreams. I answer venue-related questions, manage payments, follow up with vendors, and ensure that all of the planning information is up to date.
What are some of your favorite parts of the wedding planning process?

I absolutely love my one-on-one time with my couples. I love meeting them for the first time; I love their bar tastings and pre-wedding planning; and, of course, I love seeing them finally tie the knot! When I get to see all the time we've spent planning unfold, and the joy radiate from their faces, I get such an incredible feeling of satisfaction.
Photo by Dana Goodson Photography 
This may sound cheesy, but one of my favorite parts of my job is being able to catch glimpses of a couple's private last dance. At the end of the evening, the majority of the wedding party is gone, the venue is emptying out, and the couple is able to have an intimate moment together. It's totally different from the first dance, where everyone watching. Often, they get to play that song they may not have wanted to play in front of everyone. It's just the two of them–relaxed, sometimes silly, and just enjoying each other's presence. I can't help but smile while catching a piece of this moment.
Photo by Divine Goddess Photography
What do you enjoy most about working for Team Treasury?
I would have to say, just being a part of this team. It isn't a stuffy corporate office with hundreds of employees who hardly know each other. We are a fairly small group and we are really supportive of one another. Every day we strive to make each other better. Working in St. Augustine provides a whole other level of teamwork; this city provides an environment where all vendors–caterers, DJ's, wedding planners–are very supportive of each other.
What is your favorite memory from a Treasury on the Plaza wedding thus far?
I love all my weddings. I genuinely look forward to bringing every single one of my couple's visions for their big day to life, so this is tough. I think some of my favorite memories would have to be when my couples come back to visit after their wedding day. It is an incredibly special moment to look back on a wedding and relive all of that excitement. It can be tough saying goodbye after working so closely together for a year or more. I send them off after the wedding wishing them the best. It's so nice to see them come back and hear about their life, travels, and sometimes even celebrate pregnancies!
Why should a couple choose to have their wedding at the Treasury?
Here at The Treasury on the Plaza, we truly strive to create a day you will never forget. Between our location and services, we are able to provide our couples and their guests with that unforgettable experience. Our staff is one-of-a-kind. This is so much more than just a job for us–it's a passion. We absolutely love what we do, and love forming a bond with our couples. The venue is also located within the heart of the St. Augustine historic district, which is such a beautiful wedding destination. You have nearly endless options for beautiful wedding photos and video!
Photo by Angelita Esparar Photography
What separates St. Augustine from any other wedding destination?
I love the small-town charm of St. Augustine. I have had many couples say how crazy it is all of our vendors know each other. Everyone is friendly, helpful, and happy to be here. Of course, the town itself makes an ideal wedding destination. It has an amazing history, beautiful Flagler College, white sandy beaches, and a fun downtown experience–all within such a short distance! It provides couples and guests with a full vacation experience.
Photo by Nicole Piper Photography
If you were stranded on a deserted island, what item would you bring with you and who would you bring with you?
I would bring my coworker Katie because she means the world to me and we could banter back and forth to keep each other entertained until the end of time. I would bring Hershey's Kisses so that I could eat them or throw them at Katie (*said with the most respect and heavy sarcasm.)
What is your favorite time of year in St. Augustine? 
I absolutely love the holiday season. Christmas is my favorite holiday; I love the decorations, the lights, the music, and the warm feelings you get during that time of year. It also happens to be our most popular season for weddings because of the Nights of Lights festival in St. Augustine. The entire city is covered in Christmas lights!
If you could travel anywhere, where would you go? 
I really want to go to Germany because I have some Germanic heritage, but I would also love to go to Spain or Italy.
What types of food could you not live without, and where would you go in St. Augustine to get your fix? 
I couldn't live without pizza, pasta, or ice cream! Borrillo's Pizza on San Marco Ave. is my favorite place to grab a slice in St. Augustine.  There are a ton of great ice cream shops on St. George Street downtown. It's fun to stroll up and down the street and see what catches your eye. If I were planning a fun date night in St. Augustine I would also recommend checking out The Floridian.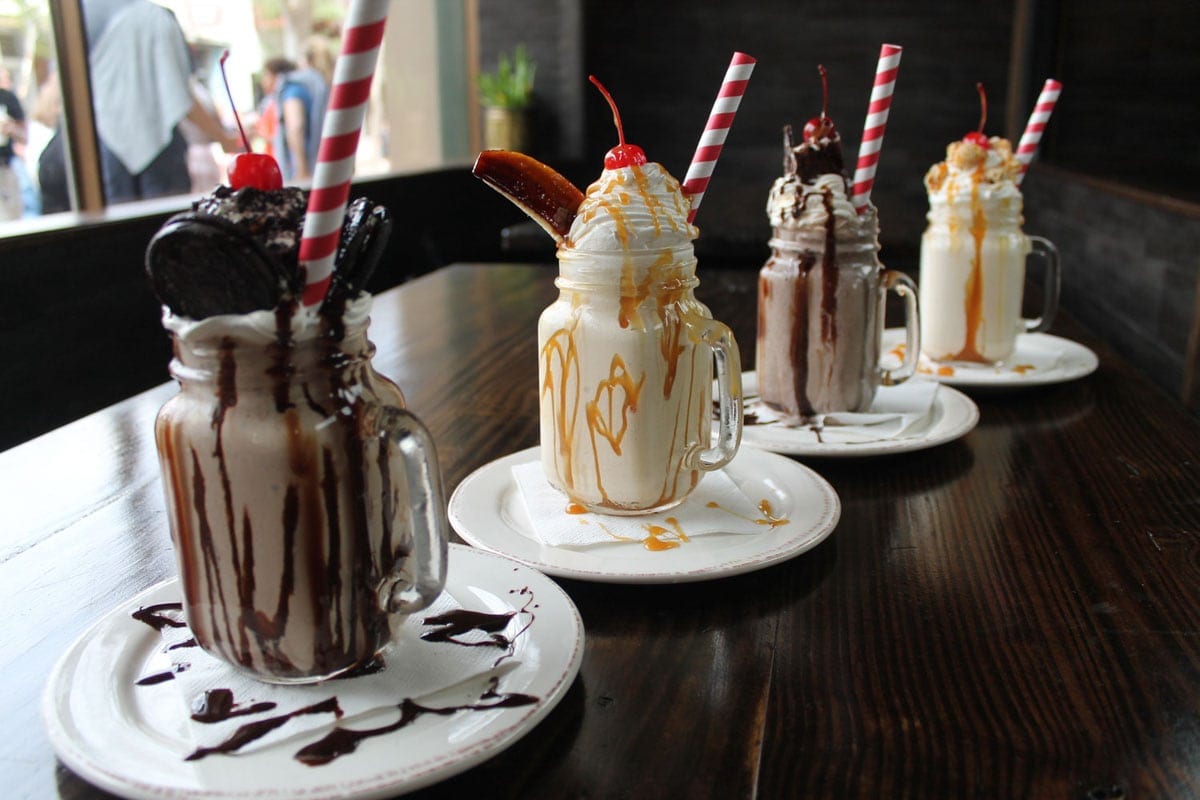 Milkshakes from Prohibition Kitchen (via. St. Augustine Social)
What advice would you give couples on their wedding day?
Choose your wedding coordinator and events team wisely. You want to make sure you have people around you that ensure there is no stress or issues that fall on the both of you on your wedding day. Having a team you can trust will make your wedding day so much smoother, and allow you to relax, have fun, and soak in everything that is going on. The day goes so fast–it starts and then, before you know it, it is over! When so much planning has gone into one day, you deserve for it to flow flawlessly.
Photo by Ashley Steeby Photography 
Thank you, Lindsay Sarah, for sharing your story with us. We are so lucky to have you on our team!
Are you ready to meet Lindsay and the rest of our fabulous team? Contact us today!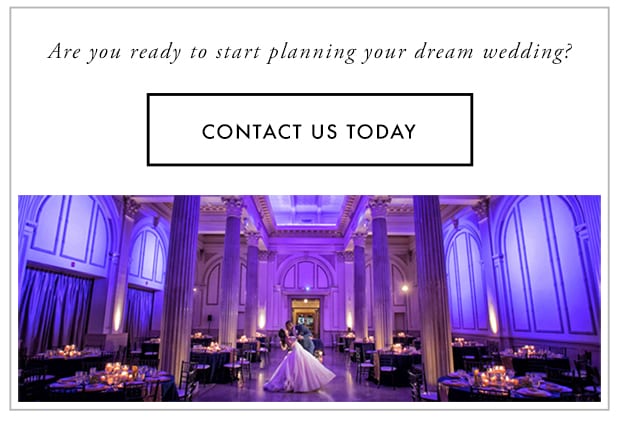 Visit us
24 Cathedral Place
Suite 111
St. Augustine, FL 32084