MEET OUR TEAM | LYNDSEY BOWDEN: SENIOR EVENT MANAGER
---
She's the calm in any storm…
She always has a smile on her face…  
She and her husband were both born and raised in St. Augustine and have been together ever since they met at a local high school, marrying in 2015…
She's a new mama (unless you count her many rescue pups, in which case, she's a mama many times over!)…
She always goes above and beyond to care for our couples and make their dreams come true!⁠
We are so excited to introduce you to our lovely Senior Event Manager…Lyndsey Bowden!
Click play on the video below to see Lyndsey in action!
Tell us how you came to be in the wedding industry.  
"I actually didn't start off with weddings in mind. My degree was in hospitality and event planning, and my first opportunity as an Event Manager prior to specializing in weddings was geared towards corporate functions, meetings, and conferences.
"There is a completely different atmosphere in a corporate environment. They're looking to accomplish something for another business, whereas with weddings, it's personal. A wedding is something that people are going to remember for the rest of their lives. It's our job to bring to life the dreams, fantasies, and Pinterest inspiration boards that our couples have. And of course, in a way that beautifully portrays each of their unique love stories."
What is your role as a Senior Event Manager at The Treasury on the Plaza, and what are some of your day-to-day tasks?
"I would say I have two different types of days: office days and event days. On office days, I help to ensure that we have everything together leading up to an event. I'm touching base with couples in many different stages of the planning process, from those who have just booked their wedding with us, to couples getting married in two days! I make sure all of their questions are answered, assist them with choosing vendors, creating and navigating floor plans, and generally just keeping in constant communication with our couples. I also ensure that my team of event managers feels empowered and prepared for the coming weekend's events. On the event day, I make sure all vendors are supported, lead our team and ensure that the couple and their families are comfortable. It is so important to ensure that the venue is flawless and every wedding runs smoothly."
Photo by Dan Florez Photography
What is different about being Senior Wedding & Event Manager than some of the other positions you have held in the past?
"I've always had people in past jobs that I've looked up to in terms of seniority and experience. Now I have my own team that I've been able to build, train, and teach. It's been amazing to be able to share all of the knowledge and experience that I've gained in my past roles with them. I get to watch my three team members be amazing for their couples, and I couldn't be more proud! I love it! It's hard because, of course, I would love to have the opportunity to hug each bride every single day, but watching my team connect with their couples and make a difference is the cherry on top of the cake!"
What are some of your favorite moments on wedding days?
"I think it's two-fold. I love my staff—whether it be a Flagler College student, or someone who has moved to St. Augustine just to work with us. I love greeting everyone as we come in to prepare for the day's events. I love saying 'hi' to the families as they come in. I think having the ability to make everyone feel comfortable and at ease is something I genuinely look forward to.
"During weddings, I love the 30-second moment right before the bride walks down the aisle. She looks at me and I'm like, 'Okay, breathe. You've got this! You've dreamed about this exact moment.' We've done years worth of planning to get to that point, and watching it unfold is really just something special."
Can you recall a moment, or moments, from all of your weddings that stood out and maybe stuck with you as something you will never forget?
"I had a bride who brought a big family to one of her final walkthroughs, which resulted in a lot of opinions about her wedding day. I remember at one point we locked eyes. We didn't really say anything in words, but I was able to calm her and reminded her to breathe.
"On the day of her wedding, she hugged me and said, 'Thank you so much! Everyone was just always overwhelming me and you were always my calm.' That was cool. It wasn't just like 'Hey! You know you set up my table so perfectly.'  It was nice to know that I made a physical difference in how she felt that day. That was probably one of the most rewarding feelings.
"I have been here long enough now to have couples come back to visit for their anniversaries. I had a baby in October 2018, so there was a point sometime that year when I was about a month out from delivering. I had a couple come back in to celebrate their one year anniversary, and I had a bottle of champagne waiting to greet them at the door. The bride looked at me smiling and announced she couldn't partake. She was also expecting! That was a really cool moment for me. I love connecting with my couples on a personal level. It's fun to keep up with each other's lives through reunion moments like this at The Treasury."
What is your favorite thing about being a part of Team Treasury?
"Here at The Treasury on the Plaza, the entire team has service in their hearts. We are all genuinely here to take care of people, and I have never worked somewhere like that. I'm always excited to come to work. Of course, there are hard days, but we work together to overcome any challenges. Knowing I get to do it with this team makes it all worth it. It's just such an encouraging and fun environment that we have created here."
What is it that separates the city of St. Augustine from so many other wedding destinations?
"I was actually born and raised in St. Augustine! I love this little city and think it was probably the coolest place to have grown up. Obviously, we are rich in history and historical landmarks, but the warmth of the people that live and work here really sets it apart. There are many other cities in our country filled with history, but in St. Augustine you walk down the street and people say 'hi.' We hold the door for one another. There is just that underlying Southern hospitality. Locals truly enjoy people that come to visit and host their events here. I don't think we take that for granted."
What separates The Treasury on the Plaza from other wedding venues?
"By choosing The Treasury on the Plaza as your wedding venue, you are able to receive more personalized service. We host only one wedding here per day, so we are solely focused on one couple at a time.
"The Treasury offers both a wedding ceremony and wedding reception all in one location, which is a really unique experience. When guests come in, they see the venue set up for the wedding ceremony. Typically, The Vault is covered by pipe and drape at that point. An hour later they come back into the exact same room and it's a completely different look. Other venues don't flip rooms in an hour—especially the seamless way that it happens here. It's so cool to see the look on guests' faces as they enter for the reception, especially when they see the exposed Vault!"
What advice would you give couples on their wedding day?
"Schedule the time to be alone together. There are a few different ways to incorporate alone time on your wedding day timeline, whether it be a first look, a Vault entrance, or a private last dance. Talk to your wedding coordinator and find the time for just the two of you.
"The day goes by way too fast. One of the moments that I remember the most from my wedding day was my first look with my husband (pictured below). I just had time to hang out with him after he saw me for the first time in my wedding dress. Later in the evening, we had a private last dance where we got to just soak everything in. At the end of the day, it really is just about the two of you."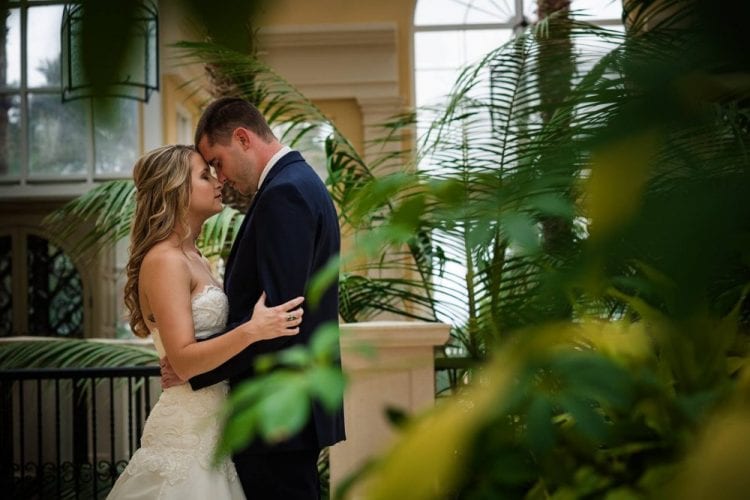 Thank you, Lyndsey! We are so lucky to have you on our team! We would be remiss not to include a photo of Lyndsey's sweet family, including the sweetest new addition, baby Lylah! This little miss also happens to be our first #TeamTreasury baby!
For more information on working with our incredible team at The Treasury on the Plaza, click the Contact Us button below!
Visit us
24 Cathedral Place
Suite 111
St. Augustine, FL 32084