"Choose a seat, not a side. We're all family once the knot is tied!"
It's important to find ways to include your family on your wedding day. While the day will still very much be "your day", it's nice to take the opportunity to recognize your family for everything they have done for you. After all, these are the people who have supported you the most throughout your life and have made you the person that you are today. Even if you already know you want to include members of the family in your wedding, it can be difficult to settle on how. Some family members might thrive with a special moment where the attention of everyone in attendance is briefly drawn to them, while others would just appreciate a small private moment between the two of you. To help you find the best ways to show the family some love on the big day, we are sharing some of our favorite ways that our Treasury on the Plaza couples have involved their families throughout their wedding day!
Take a quiet moment to finish getting ready with someone special
There isn't a lot of quiet or private time on your wedding day. From the moment most brides and grooms wake up, they are on a tight schedule to make sure that they can get ready in time for the ceremony. The bride is surrounded by bridesmaids, makeup artists, hairstylists, photographers, and more. The groom is often surrounded by his groomsmen, friends, and other family members for most of the day. Plan a few minutes on your wedding timeline for some private time with that special family member who can help you finish getting ready. You might be surprised at how powerful a quiet moment can be, especially on your wedding day.
Natalie's mom helped make sure her gown looked perfect before her first look with Matt. Image by Stout Photography
Katie's mom helped fasten her stunning diamond choker before she walked down the aisle to Zack. Image by Alex & Cammy
Give your parents their moment in the spotlight
Your wedding is one of the biggest days of your life, often surpassed only by the birth of your child. Your parents will cherish the ability to say a few words to talk about how much they love you, are proud of you, and are excited for your future. Sometimes sappy, sometimes sweet, and almost always filled with dad jokes, your parents will rock the mic!
Tricia's parents raised a glass to their daughter and amazing new son-in-law, Mannie! Image by J Layne Photography
Leslie's father gave a touching speech about the moment when he knew that Rob was the right man for his daughter. Image by Rob Futrell
Walk down the aisle with the person (or people) who make you feel confident and calm
Walking down the aisle is one of the biggest moments of your wedding day. Having someone by your side who has had a meaningful impact on your life will make that moment all the more special. This is not a moment where you should feel chained to tradition either, even if that means being escorted by multiple people!
Anisha's mom had the joy of walking her daughter down the aisle to say "I do" to Brandon. Image by Irrok Photography
Both of Heather's parents were there to give her a steady hand as she walked down the aisle toward August. Image by Meagan Gaines Photography
Even though Amber's father wasn't able to be there, she took a piece of him with her by wearing a pair of his shoes as she walked down the aisle with her uncle. Image by Ais Portraits
Have a special dance with your family during your wedding reception
The parent dances are always one of the most heartwarming parts of any wedding reception, when a father gets to dance with his daughter on her wedding day and a mother gets to dance with her son. But why limit those special moments to just the father-of-the-bride and the mother-of-the-groom? Plan a special dance for other close relatives too! You can even keep it a surprise until the last moment. We've seen several mothers-of-the-bride and other family members overcome with emotion after unexpectedly being called to the dance floor. If you don't want to make a big scene about it, talk to your DJ about playing a loved one's favorite song. Have the DJ let you know just before the song is played, so you can make sure to dance with your family member!
Image by J Layne Photography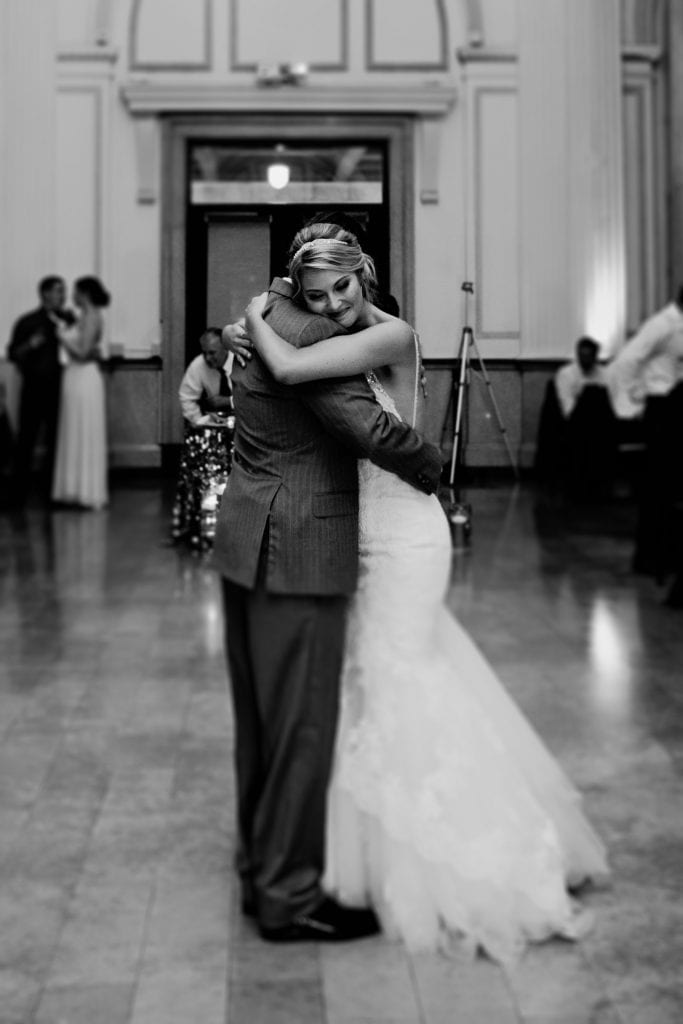 Image by Madison Hope Photography
You can also plan a special dance just for your parents! Image by Ivey Pictures
Make a memory table
It's common to see photos of the happy couple on display at their wedding reception, but you can also showcase pictures of parents, grandparents, and other family members. This is also a great opportunity to include a candle or flowers for those who can't be with you. A memory table is a beautiful way to honor someone's memory and have their presence with you as you celebrate this huge milestone in your lives.
Image by Bethany Walter Photography
Image by J. Mosley Photography
For the grandparents who like to make a bit more of a statement, switch out Flower Girls for Glitter Grams!
Whenever a kid takes an active part in the wedding, it is always adorable. Especially the flower girl, who showers the aisle with flowers and cuteness just before the bride makes her grand entrance. But not every couple has a young niece, cousin, or family member who can fill the role. Maybe you simply want an adults-only wedding; what do you do then? Enter the Glitter Grams!
How sweet are these Glitter Grams at Kara and Kyle's wedding!? Image by Ashley Steeby Photography
7. Take a moment to include the little ones in your wedding ceremony
A wedding is about uniting not just two individuals, but two families. This includes any children the bride or groom might have. Take a moment during the wedding ceremony to acknowledge them and make them feel included. It's always a touching moment when their new step-dad or step-mom makes a special vow just to the children!
We love that Gemma and Brett incorporated Gemma's two boys in their wedding ceremony. What a sweet family moment full of love! Image by Kristen Weaver Photography
Jeremy says a few special vows to Trisha's daughter during their Treasury on the Plaza wedding ceremony. Image by Life & Love Studio
8. Ask them to share their musical talents
Does one of your family members have an incredible voice or play an instrument? Have them sing or play your first dance song or another special song during the wedding reception!
9. Make a personalized keepsake to remember this special day
Chances are good you are already getting your bridesmaids, groomsmen, and anyone else involved with your wedding a gift as a thank you for being there with you on your special day. What about your family members who have been there for you throughout your entire life? A personalized keepsake can become a prized possession for anyone lucky enough to receive it.
Rachel had gifts in the Banker's Lounge for Jon and her dad to open while getting ready. Image by Alex & Cammy
10. Do a private first look
Maybe your parent isn't one for hankies or watches – no problem! Set aside time for a private first look with the special person who will be walking you down the aisle. Just make sure to bring your photographer along to capture these sweet shots!
Image by Casie Marie Photography
Image by Sarahdipity Photography
How will you say your "thank you" and include your family on your wedding day?
To the families who raised us, love us, and got us to this big moment, this day is for you, too!