6 Wedding Cost Saving Tips From The Treasury on the Plaza
---
The memories that you make on your wedding day with your significant other, family, and friends are priceless. There is a reason that couples say that their wedding day is one of the best days of their entire life! Making the wedding of your dreams a reality often involves a lot of financial planning and number crunching. Creating and sticking to a wedding budget is all about setting your priorities and using your money wisely. The Treasury on the Plaza is here to help! We're sharing a few of our favorite wedding cost saving tips.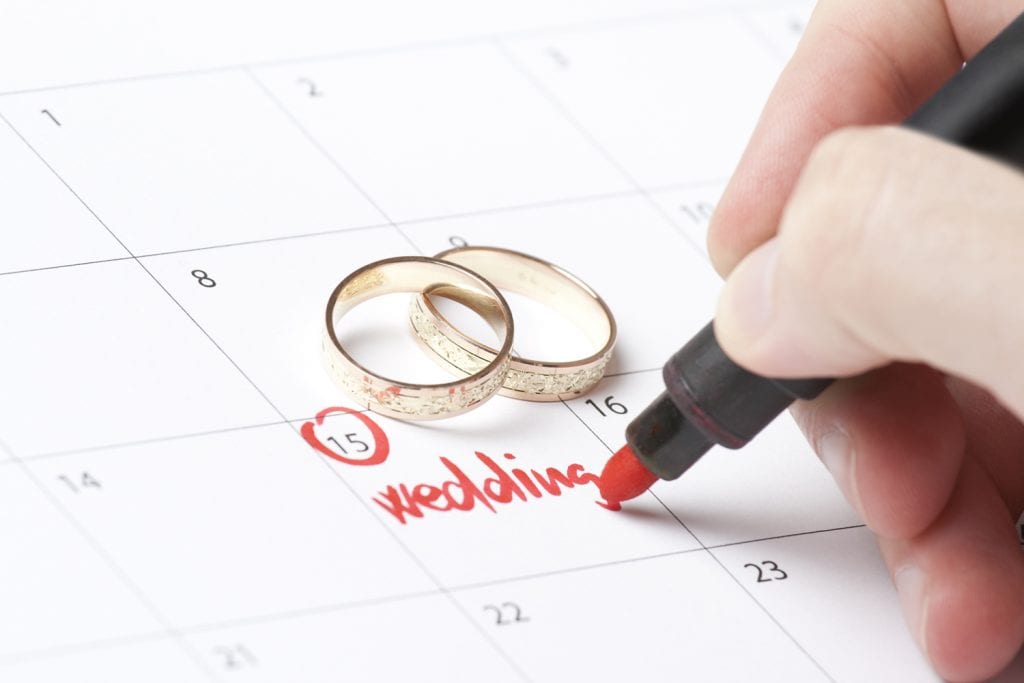 1. Be Flexible With Your Wedding Date
Did you know that the wedding date that you choose can have an impact on your overall wedding cost? Here at The Treasury on the Plaza, our pricing is based on your event needs, as well as the day of the week and how far in advance you book. Wedding dates a year or less away are eligible for discounted rates!* Many other vendors also vary their pricing based on peak and off-peak demand times, so make sure to do your research before picking your date!
Photo by Ivey Pictures
2. Hire a Wedding Planner
There is a reason that many wedding venues (including The Treasury) now request that you hire an outside wedding coordinator. Not only does your wedding coordinator make sure that every detail of your wedding day goes off without a hitch, but they can also end up saving you a few extra bucks at the end of the day. Wedding planners spend years building relationships with other vendors and often receive special pricing breaks on certain services. Sometimes planners also have decor items in their inventory that they can use for multiple events. You can rent items like chargers, candles, signage and other items for a minimal fee, rather than having to purchase these items on your own (and probably never using them again!) Besides the more tangible wedding cost savings that a planner can assist with, they also save a huge amount of time, and time is money, right?!

Photo by Brooke Images
3. Choose a Venue With Flexible Catering Options
With certain venues, you can be locked into using a single in-house caterer, which often has a much higher price per guest than if you were to use an outside caterer. Here at The Treasury, we have an absolutely fabulous list of outside caterers for you to choose from. This means that you can compare prices and options on your own, and find a caterer who best meets your needs. Make sure to ask your caterer about the benefits and drawbacks of different types of food service. Buffets and stations can have a higher cost of food, but a lower cost for staffing and servers. Plated meals can sometimes cost less per guest, but require more service staff, depending on your number of tables and guests.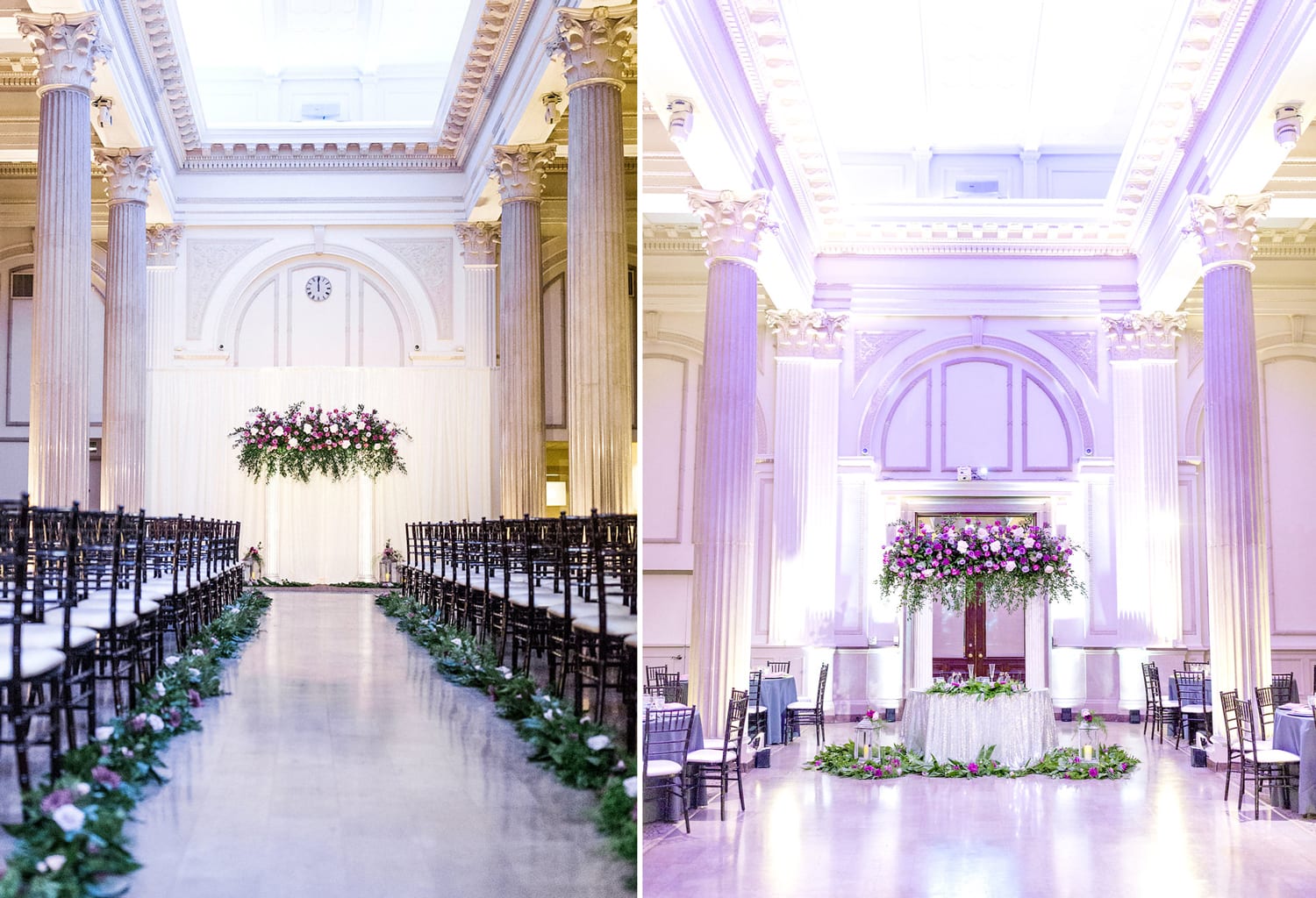 Photos by Lisa Silva Photography
4. Host Your Wedding Ceremony and Reception in the Same Location
Hosting your ceremony and reception in the same location can lower your wedding cost in several ways. First, moving 100+ guests and vendors from one location to another in a short amount of time often requires that you rent additional transportation, which can rack up a few hundred extra dollars. Some vendors charge an extra fee when the ceremony and reception are in two separate locations. Another cost to consider is the additional decor and rentals that may be needed. Items like chairs often can't be moved from the ceremony venue to the reception venue, which means that you will have to make sure you have twice as many available. Additionally, hosting your ceremony and reception in the same venue often means that you can save on costs by repurposing floral arrangements and arches as a part of your reception decor.

Photo by Ivey Pictures
5. Take Advantage of Sweet Savings on Your Wedding Cake
If you have a large guest count, consider doing a smaller display cake and having a large sheet cake in the back that can be served to guests. You can also talk to your cake baker about options for displaying a "dummy cake" – a beautiful cake on the outside with foam or other non-organic filler on the inside. Dummy cakes can often be 10%-20% off of the cost of a real cake. Another way to save on cake costs is to use organic flowers in place of sugar flowers, which can be labor intensive. You can also think outside of the box and look into other sweet options as an alternative to a wedding cake. To reduce their wedding cost, we have had couples serve yummy treats like doughnuts, cookies, cake pops, or cupcakes instead of the traditional wedding cake.

6. Choose a Venue That Needs Minimal Decor
During your venue search, you may find yourself deciding between two options: a venue that is beautiful on its own and uses a larger amount of your budget, or a lower budget venue that needs more decor to make it fit your vision. It can be easy to underestimate the cost of items like draping, lighting, furniture, and elaborate floral displays. These costs can add up quickly!
We don't mean to brag (okay, maybe we do!) but The Treasury on the Plaza is just so beautiful that you don't need to break the bank to make it look incredible on your wedding day. Many of your rental items are also included with the venue rental fee.
One of our big bang-for-the-buck secrets at The Treasury is the amazing high-tech lighting system that is pre-installed in the Grande Ballroom. Rental and setup of a similar lighting system in another venue could range anywhere from $5,000-$10,000, but at The Treasury, you only pay a fraction of that cost!
*Pricing and special offers are subject to change.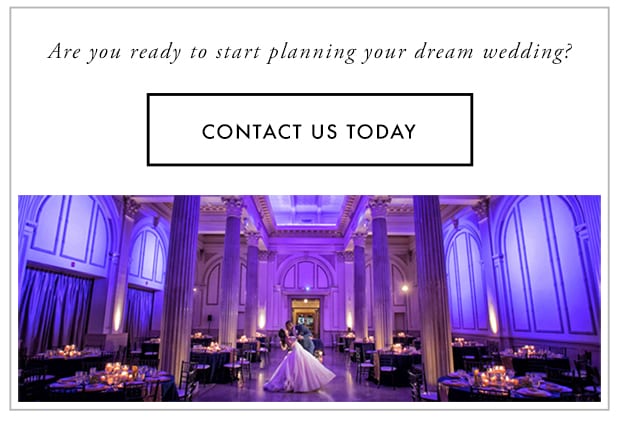 Visit us
24 Cathedral Place
Suite 111
St. Augustine, FL 32084