"Choose a seat, not a side. We're all family once the knot is tied!"
With so much hustle and bustle, you may be wondering how to take the time include your family on your wedding day and make them feel special. After all, these people have supported you the most throughout the years and made you the person that you are today. To help you find the best ways to show the fam some love on the big day, we are sharing some of our favorite wedding reception ideas that our Treasury on the Plaza couples have used to cherish their loved ones throughout their wedding day!
1. Take a quiet moment to finish getting ready with someone special
Natalie's mom helped make sure her gown looked perfect before her first look with Matt.
Katie's mom helped fasten her stunning diamond choker before she walked down the aisle to Zack.
2. Give your parents their moment in the spotlight
Sometimes sappy, sometimes sweet, and almost always filled with dad jokes, your parents will rock the mic!
Image by J Layne Photography
Tricia's parents raised a glass to their daughter and amazing new son-in-law, Mannie!
Leslie's father gave a touching speech about the moment when he knew that Rob was the right man for his daughter.
3. Walk down the aisle with the person (or people) who make you feel confident and calm
Walking down the aisle is one of the biggest moments of your wedding day. Having someone by your side who has had a meaningful impact on your life will make that moment all the more special.
Anisha's mom had the joy of walking her daughter down the aisle to say "I do" to Brandon.
Image by Meagan Gaines Photography
Who says that only one person can walk you down the aisle!? Both of Heather's parents were there to give her a steady hand as she walked down the aisle toward August.
There wasn't a dry eye in the house when Amber walked down the aisle with her uncle on her wedding day. Even though her father wasn't able to be there, she took a piece of him with her by wearing a pair of his shoes as she walked down the aisle.
4. Have a special song with your mom, dad, aunt, or uncle? Invite them up for a dance during your wedding reception!
Image by J Layne Photography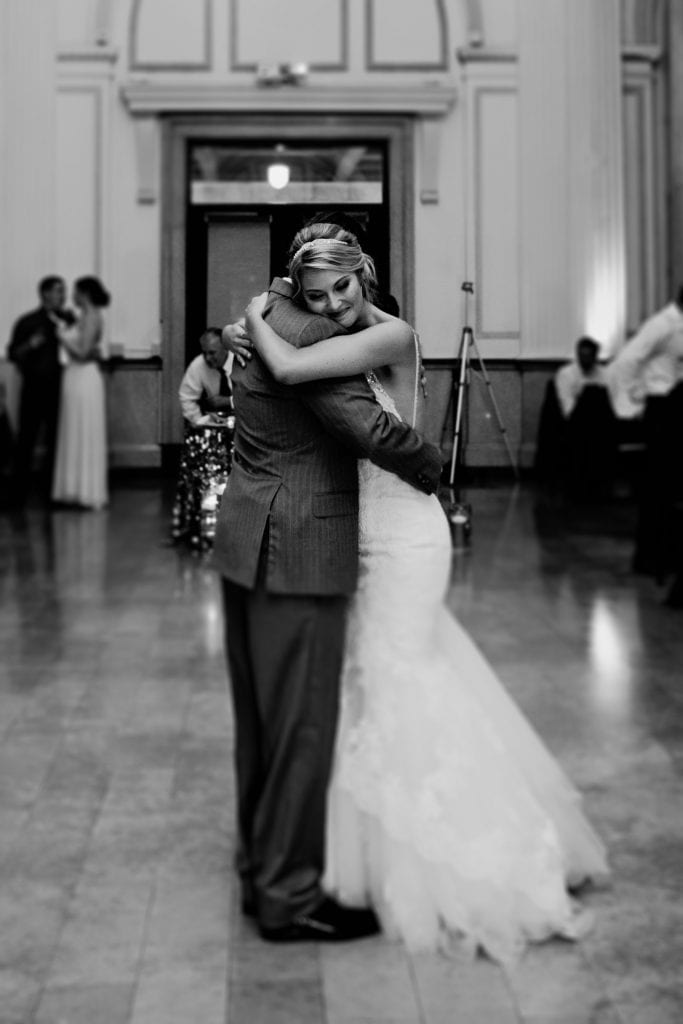 Image by Madison Hope Photography
…and hey, if you're really feeling crazy, give your parents a dance for just the two of them!
5. Make a memory table
Showcase pictures of parents, grandparents, and other family members on your wedding day. Include a candle or flowers for those who can't be with you. A memory table is a beautiful way to honor someone's memory and have their presence with you as you take the next step.
Image by Bethany Walter Photography
Image by J. Mosley Photography
6. For the grandparents who like to make a bit more of a statement, switch out Flower Girls for Glitter Grams!
Image by Ashley Steeby Photography
How sweet are these Glitter Grams at Kara and Kyle's wedding!?
7. Take a moment to include the little ones in your wedding ceremony
Image by Kristen Weaver Photography
We love that Gemma and Brett incorporated Gemma's two boys in their wedding ceremony. What a sweet family moment full of love!
Jeremy says a few special vows to Trisha's daughter during their Treasury on the Plaza wedding ceremony.
8. Ask them to sing a special song
Does one of your family members have an incredible voice? Have them sing your first dance song or another special song during the wedding reception.
9. Make a personalized keepsake to remember this special day
Rachel had gifts in the Banker's Lounge for Jon and her dad to open while getting ready.
10. Do a private first look
Maybe your parent isn't one for hankies or watches – no problem! Set aside time for a private first look with the special person who will be walking you down the aisle. (Just make sure to bring your photographer along to capture these sweet shots!)
Image by Casie Marie Photography
Image by Sarahdipity Photography
To the families who raised us, love us, and got us to this big moment, this day is for you, too!
How will you say your "thank you" and include your family on your wedding day?